INTERVIEW: Ashkelon Sain
A verteran of seven Trance to the Sun full-length recordings (Submarine Fleet)
By: Jett Black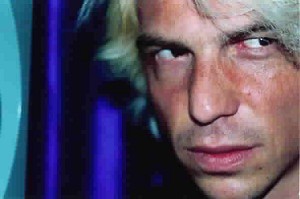 Portland, Oregon draws new life into the indie music scene like a vortex. Ashkelon Sain, a verteran of seven Trance to the Sun full-length recordings, and an endless stream of music compilation contributions, now resides in the Portland area. Recently, Ashkelon Sain produced the latest applauded release by Cinema Strange (www.cinemastrange.com), and is now applying his many skills and talents to the next release by Portland-locals, Sumerland (www.Sumerland.com).

What brings Ashekelon to Portland, now? And what might this mean in terms of new music trends? Has the Indie Music Underground begun to shift and shake once again?

Let's begin to explore such questions with Ashkelon Sain.

IMWT: Are you new to the Portland area?

Ashkelon: Yes, I came here to the area about 4-1/2 months ago to start over. Ashe from Written In Ashes (www.writteninashes.com) was kind enough to put me up for a few months until I could get a place of my own... 2 Ashes in the same house.

IMWT: Where are you moving from?

Ashkelon: Santa Barbara. I lived there for 13 years, and I don't miss one square inch of that place, it's not what it used to be, not what I originally came there for.

IMWT: Where are you from originally?

Ashkelon: In the very beginning, the Ontario Province of Canada. But I lived all around Southern California, most of my growing up, and I started Blade Fetish in in Santa Barbara, and then I started Trance To The Sun in Santa Barbara in 1990.

IMWT: Was that a solo project at the time?

Ashkelon: It started out as that, and then I was joined by the singer Zoe Alexandra Wakewfield in '93; and then in '94 we were signed to Tess. But, yes, prior to '93 it was a solo instrumental project. I did a lot of improvised live performances with my guitars; which, incidentally is what I have been doing for the last year under the banner of Submarine Fleet. There are a whole lot of MP3 music files of Submarine Fleet on MP3.com (www.mp3.com/submarinefleet). More improvised live performances I've done using my guitar and synths over the course of the last year. I did the first Submarine Fleet performance in Portland about 2 weeks ago at perfectly enough, the Ash Street Saloon. We have a running theme here!

IMWT: Is Submarine Fleet a new project for you, or are you still working with Trance To The Sun?

Ashkelon: Trance To The Sun is... over. (www.mp3.com/trancetothesun) It became time to do something else. We did 7 albums and 131 shows - I'm meticulous about keeping track of all this stuff - almost 200 songs recorded in our studio, and life just really became to a natural, if not dramatic, conclusion for me in Santa Barbara, I had a pretty traumatic accident, where I was hospitalized; I was jilted romantically in a pretty bad way and I didn't react to that very well, and I kinda' went crazy for awhile. I went off my head, and I went to work at sea. I took a job on a ship for awhile. I quite doing computers to pay the bills. I used to be in a high tech, computer environment on a part-time basis, which allowed me to have the house and the recording studio and the whole nine yards and concentrate mainly on my own music regardless of whether it provided me with any sort of an income or not. Because the tides of fortune in the making of music is... to put it simply: "it never rains more than it pours...".

So with Submarine Fleet... are you thinking about going back with Tess?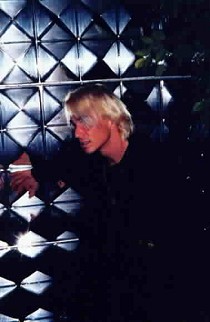 Ashkelon: Well, Tess Records has been defunct since '97. You know, part of what figures into the conclusion of Trance To The Sun, is that I cannot and will not self-promote anymore. And so much about working about music on the indie level is doing your own promotions work... booking your own tours, finding your own backing... and part of the reason that Trance To The Sun remained relatively unknown is that that sort of work was never really my forte, and certainly not what I ever concentrated on. And so the project Submarine Fleet it's just an avenue on which I make music, I make it accessible over the internet, but I'm not looking to get a record contract out of it.
IMWT: Will Submarine Fleet then be an avenue for reflection over heartache and events that led to your leaving Santa Barbara?
Ashkelon: No. No. It's just the sounds that come out of me naturally. It's really more of an experiment for me to bypass my analytical mode in composition. In Trance To The Sun, I was responsible for programming drums, playing keys, and guitars, and writing some of the lyrics - and the way I did it was I took the feelings that I felt inside, and I translated them into sound that I could hear, in my own mind, and then consciously analyzed that in order to divide it up into instrumentation learned the parts, and once I complete them without having to think about it anymore, I recorded it. That's why some of the music of Trance To The Sun sounds kinda' abstract. That's exactly the way I heard it in my head. I was tireless to make the music sound on tape exactly the way I heard it. Submarine Fleet has been an exercise for me to not analyze what I'm feeling and then re-interpret it over the course of 2 to 3 weeks which it would have took to record a Trance To The Sun song. Instead, I play exactly what I'm feeling at the moment, and it's done! I needed to get back in touch with being able to express a moment on the spot, even if it necessarily dictates that I have to be using minimal instrumentation to do that. I have always been really fond of using maximum instrumentation in the studio. Being able to multi-track and so forth. I can be an army of guitars, and that accomplishes the output of what I'm trying to say emotionally because that much instrumentation is required to really do it. But I can do it on some levels with just me and the guitar and the synths in an intimate environment.
IMWT: With Submarine Fleet, are you back to doing solo live performance art?
Ashkelon: Yes. Submarine Fleet has been me. There's been a couple of guests on-stage. Percussionists play with me, I had a clarinet player play with me one night. In that regard it's kinda' anything goes... we are just improving in the moment. I've come to Portland in the hopes of starting a band, because I think that this is going to be the place to do it over the next few years. Portland's got a really magnetic quality going on right now. You notice that because a very safe introductory question when meeting people in Portland is not "what's your sign"; it's "where are you from". Nobody here is from Portland, I don't know if you've noticed that, there's people looking for something in America and they are gathering here right now. There's a huge contingent of people from Santa Barbara here. I moved up with a posse, there's more on the way. Ingrid, from Trance To The Sun, is planning to move up here. Whether that means working together on music again remains to be decided; but I've been taking a break from being in a group, also I would very much like to be again.
IMWT: How do you envision that evolution of a new music group?
Ashkelon: The right musicians will eventually cross paths with me and a group will be formed.
IMWT: What are you looking for? Do you have any conceptualization of what you would like to do different, or the same?
Ashkelon: I can't help but do what comes out of me naturally. The difference this time around will be that I've done the route of being responsible for all the instrumentation, and I need to work with some other geniuses, and have a band that is based on the input of a greater number of people. Just because I think that's what would make me happy now. It was totally artistically satisfying to be responsible for so much of the music when I was doing Trance To The Sun. That's what I felt inside that I had to do. But I don't feel that way anymore about being in a group. It's going to be a struggle for me to be in a group that is more, shall we say, democratic, but I'm gonna' do it.
IMWT: How did you manage recording music alone in the studio?
Ashkelon: In the studio, it would take me typically 3 weeks to finish a Trance To The Sun song; and in that 3 week period I would spend anywhere from 80 to 180 hours. I kind of logged my studio time. To do that kind of studio work by yourself, you have to take careful notes. And on the last Trance To The Sun album there's a song called "Map of the Lost" which set the all time record at 180 hours. "Map of The Lost" is one of the greatest pieces I've ever come up with. The reason it took so long is because it went through several mutilations before reaching a final stage. One of my favorite ways to work, in Trance To The Sun, and what was done about 60% of the time, is we would have a jam session between me and the singer, using drum machine and maybe some pre-recorded stuff, and I would play and we would just hit record and go until we hit something that sounded good. I would stop and make sure it was being recorded well, and we would lay down what would be the final vocal tracks through the process of this jam session... but it wasn't the final music. I would then go back and write new music to what the singer had recorded. That was my favorite manner of writing what you would term the "song section" of the songs. There are cases, like the song called "Nostalgia for a Saturnine Angel" which Ingrid sings on the album as alien (?).. she recorded those vocals in that context. With me playing bass and that drum beat going on the drum machine... and she just improvised that. I wrote all new music for that song based on what I wanted to hear below those words. So that's the other 40% of the Trance To The Sun compositions.
IMWT: So, why shift now your overall approach to unleashing, recording, and performing ne wmusic?
Ashkelon: The whole process of working in the context of Trance To The Sun, living in Santa Barbara California, booking my own tours, and negotiating my own record deals is something that I don't feel I have the capacity for at this time... maybe not anymore. At least not doing it by myself. I need to be a part of a bigger organization of people. And maybe the impeding factor in being so largely responsible, is there is only so much one person can do. And wanting to be be able to do more, wanting to accomplish more... ultimately it leads to frustration. Like, I don't ask for more in terms of what that music was. The music came out precisely as it should of, I spent ALL the time necessary that it did. The tours certainly suffered. We played under-promoted tours, and there were some nights when only 10 people showed up... and it does become hard to justify driving 1000 miles to play one show where 10 people have shown up. I mean, we played those shows, we played them masterfully, we put everything we had into them... but you can only do that for so long. You can only have that happen so many times...
IMWT: It usually tears a lot of bands apart. I've seen bands come back from tour like that and they lose members....
Ashkelon: Well, that has to do with what their intent is. Some people are into music to be famous. I'm just in music for music. 100 people would have been fine for me to drive 1000 miles. That would be perfectly fine; but if it's only 10 and it's a question of "well, was the show promoted", "well, no", "well, Mr. Promoter where you when the show was supposed to be being promoted"... "I was powdering my nose"... well, there was only so much control I could ever have over that. I threw my weight around as much as possible, and having been on Tess records gave me a reputation which was helpful, and put me in contact with a lot of very helpful people, and I could get around without being "stiffed", I wasn't ripped off by promoters, by and large, because I knew the right people... I was connected to the right people, so it would have sent a reverberation to screw Trance To The Sun, but then in that sense a lot of bands are treated a lot worse. That's why a lot of bands who are certainly worthy, never get the opportunity to do a national tour. I can think of a few examples... like there is a band called Stendhal (www.stendhalnoise.com) from Philadelphia, and they are fucking fantastic. They ought to be travelling on a national level.
IMWT: Would-be and otherwise essentially inexperienced music promoters are too often inconsiderate of the fact that it's necessary to develop and maintain a street team...
Ashkelon: Well, it must be mentioned that there are promoters who do it right, and do it very well... and I've had the pleasure of working with some. I think anyone who has been in the promotions business for very long probably has their heart in the right place. But it's more a question of know-how. I don't mean to bash promoters of the world...
IMWT: Obtaining the "Know-how" requires a willingness to reach out to others in the music scene. Both those who have been successful and those who would simply rather be helping build the music scene than to soak in yet another re-run on television.
Ashkelon: That reminds me of a funny story that was related to me by a promoter named Loon from Cleveland, who is one of the most favorite promoters I have had the pleasure of working with. Evidently, "Sheep On Drugs" was scheduled to play at Fantasy, in Cleveland, and he received the rider for them just a few days before the show... and the rider had some of the most incredible demands that had ever been put forth to him. They wanted a ground-level office on a major street with 4 outgoing phone lines, they needed a driver and a car, not to mention a hotel room, the colour of the bath towels, blah blah blah... but he was just laughing his head off about this rider and telling all his friends; well, this friend of his said "I'll be the driver!" Well, he wasn't really going to go through with any of this, but he decided to put her on, so he said to her... "well, sure, you could be... I mean it would be fun to be the driver for Sheep On Drugs and all, but you must understand that really the only reason they want a driver is to go out and look for heroin. So you gotta' know the darker parts of town," and she hesitated and said, "Well, okay." And so, Loon continues,"but then on the other hand; once they shoot up, then you could definitely just reach into their pockets and steal all their money because they are bound to be loaded", so she was all "well, that sounds pretty good"... Loon, seeing the need to carry this a bit further, then, says "but then on the other hand, they are British guys, and they all have this new thing where they gotta' be having sex the moment they shoot up, so you'll probably have to have sex with them... and then you could easily just rob them blind". She was like "uh huh, well, I'll have to think about that"... and Loon goes on, saying, "Oh, one more thing about Sheep On Drugs, I just remembered, they only have sex with women who are wearing sheep outfits, so you'll have to be wearing a sheep outfit when the whole action takes place"...And, so she's beginning to finally have second thoughts and responds with, "oh, well, I really gotta' think about that". As it turns out, she emailed him the next day, and said "I'll do it! But please don't tell my boyfriend". (laughs!)
IMWT: So, is any of that really true?
Ashkelon: Naw... This is just one great funny story of many that was dramatized for television, or otherwise by Loon who is one of the coolest promoters in the country.