INTERVIEW: Andrew W.K.
Just Add Water
By: Randy Harward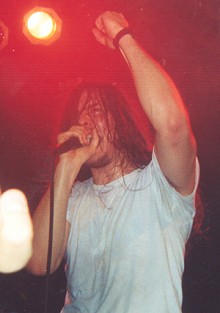 (Previously published in Salt Lake City Weekly)

AWK is an Instant Rock Star. Sure, he has a story--

Born in California and raised in Michigan, the hyperkinetic kid hopped from classical piano lessons to a drum kit, playing in the requisite punk and metal bands...while continuing with piano like a good boy. At 17, he demoed solo material; super-happy, double-Y chromosome party rock. At 18, he'd move to New York City, begin circulating demos and playing shows; just a man, a keyboard and a CD player. The one-man shows and two EPs (1999's Girls Own Juice and 2000's Party 'Til You Puke) landed him two support slots with Foo Fighters before he even had a band. That, he assembled shortly after returning from the tours. Shortly thereafter, he'd sign with Island Records.

--but even before his debut, I Get Wet, was released in the States, buzz from AWK's frenetic one-man shows had reached American ears, creating a turgid anticipation factor. Andrew WK became a star, it seemed, by simply adding water.

The lightning speed at which success arrived is in line with Andrew WK's "Don't Stop Living in The Red" personality, the very thing that makes his shows...and a simple phone conversation...so wonderfully depleting. Regarding the fast track, he's exuberant, albeit in a voice seems hoarse from shouting party anthems five nights a week.

"It feels fantastic and wonderful and exciting," he half-croaks (we'll later learn this is his normal speaking voice) as if a '78 primer-gray Camaro at ignition. His next words roar to life, as he eases into what could be a sales pitch or a football player's halftime prognosis. "We're still at the very beginning. We've got our work cut out for us and we're aware of what we need to do in the meantime and we're excited about what we'll have to do in the future. And I have to make it very clear that [my music] exists for [the fans'] joy. I am working to make them happy. My idea is to create a band where everyone is a member."

For once, this is a rocker who means it. There's no phony fan-fellating from Andrew WK, just an almost-too-earnest desire to spread the gospel of Fun as Fast as Fucking possible, 'cause life is Fleeting. Nearly every tune on I Get Wet preaches this, from first single "Party Hard" to "Party 'Til You Puke" to "Don't Stop Living In the Red" to "Fun Night" to "It's Time To Party." And as with the message, the music is all the same, too. Each song can be described thusly: a troika of guitarists (Jimmy Coup, E. Payne, and Sergeant Frank) provides a wall of power chords to complement AWK's simple keyboard plinkings and barked, Dickey Barrett vocals and the relentless straight-four rhythms of drummer Donald "D.T." Tardy (Obituary!) and bassist Gregg R.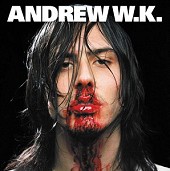 It's a tasty recipe, but a potentially deadly one, as it could easily become the soundtrack for a thousand frat parties or, even worse: exercise videos. Any track is Jock Jams fodder, a latent ESPN bumper, a Red Bull commercial. "Party Hard" could be the next "Tubthumping." Confronted with the idea (that a song, when beat to death, can lose potency and relevance) in addition to the notion that popularity can wane as fast as it waxed, AWK lets fly with a vehement ten-minute speech. It's much too long to include in its entirety, but he makes a good point. The Reader's Digest Condensed Version:
"I don't believe that. I think a good song will stand on its own, no matter how many people like it or use it. If someone's belief fades after other people begin to believe, then I question their beliefs in the first place. It's wacky to me, to think the more something is loved, the less someone would love it. The biggest, strongest person in the world is the guy that can open his arms to everything and say, "You know what? I might not understand every single thing about this, but bring it on!" I want to experience stuff while I'm here and I'm not gonna limit my world by putting up walls and blocking things out and qualifying what's right and what's wrong. It's all right. If it exists on the face of the Earth, then by its very nature, it must be right. And it's just a matter of whether I'm big enough to accept it or not. And this music is untouchable. It's bigger than just me. And I would never keep it private or exclusive. It's inclusive. And the true meaning of life is just to find the things that give you pleasure and just soak yourself in them. And not question or doubt them or find them trivial and certainly not feel guilty about them. It's not rocket science, it's just the truth."
The truth may actually be a harsh reality, but damned if he isn't right. And for the sheer honesty, the purity of his message, Andrew W.K. deserves thanks, if not the rocker's equivalent of tenure.
"I do this because this is what I would want someone to do for me. It's just the golden rule in living color. Yeah."