NightClub Review: Satyricon & Fellini's
Located in Portland, Oregon
By: Marty V. and Jett Black


SATYRICON - 125 NW 6th Avenue Portland, Oregon 97209

When I think of the Satyricon, I think of it as "family". From the casual staff (who greet you at the door, and welcome your drink requests) to the bands that frequent this historic music venue. All help to keep the spirit of music and the dream of the music scene alive. Maybe that's what the Satyricon is really all about; The spirit of music.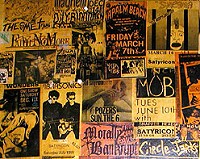 "The West Coast's longest-running Alternative Rock music venue" is dark, cavernous, and unpretentious. The "No Jacket Required" attitude invites you to join in, experience, and mold this place as you will. As you step up to the long, obsidian-black bar, you may notice the Buddha that presides from behind the bar, the sensual art above, and stars on the ceiling. Explore a bit more and you'll find graffiti on the tables, an open-staged Dj booth, black & white checkered floors, and the infamous Round-table, in a corner, with a pentagram etched into it. Try, now, to imagine all those famous and infamous people that have entered here, sat at these tables, drank from this dark well, and walked away through those doors to meet with Destiny.
Now, it's time that we enter the inner sanctum, the stage area. Plastered with hundreds of band stickers, that would take someone days to take in. Like a museum of modern art, you see the history dating back to it's unveiling in 1983. The stage itself is comfortable, like an old basement rehearsal space with a high ceiling.


Fellini Restaurant, 125 NW 6th, Portland, Oregon

Hours:
weekdays 11:00 A.M. - 2:00 A.M.
weekends 5:00 P.M. - 2:00 A.M.
The Fellini menu includes salads, soups, entrees, sandwiches, burgers, desserts, and a full bar.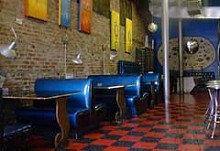 If you're new in town, or maybe you just can't seem to tear yourself away from that damned computer long enough to savour the experience of visiting BOTH Fellini's & Satyricon virtually under ONE roof, then get yer ass up and out to Satyricon & Fellini's tonight!!
Fellini's Restaurant and bar is next door to Satyricon and completely accessible throughout the evening by way of a door that adjoins the two at the crotch, ... I mean that the adjoining doorway is adjacent to the bathrooms at the back of Satyricon & Fellini's Restaurant. That's an important feature as it means there's not just one, but TWO bars, 4 bathrooms, and twice as much seating and dining for private conversations, and a chance to slip away from the music, get a bite to eat, wet your whistle, and then return to the Live show again without ever leaving the building. No fighting traffic to grab dinner before/after the show. Just arrive, have a beer, and a plate of chicken fettucini, or a half-pound burger and fries, while you wait for your friends to show up, or for the band you came to see perform to get set up on stage.
Portland, Oregon offers a rich history in music, and the Satyricon has always been on the forefront of embracing it. The Satyricon contributes to this history by way of Audio-Visual artwork, entertaining LIVE Performances, and most of all, the Spirit of music and all that it encompasses. When you're standing inside the Satyricon, you're standing in an original Rock & Roll club. In one of the bathrooms, the graffiti reads: "I still believe in the Rock & Roll dream."