The Legendary Stardust Cowboy and the Altamont Boys
Tokyo (Cracked Piston Recordings)
By: Alex Steininger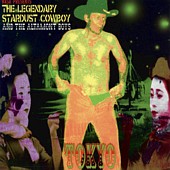 Born Norman Odam in Lubbock, Texas in 1947, The Ledge, the front man for The Legendary Stardust Cowboy and the Altamont Boys, first tasted success with his 1968 T-Bone Burnett produced song "Paralyzed", which battled The Beatles' "Hey Jude" on the Billboard charts for two weeks.

The song quickly sank thereafter on the charts, but being a solider, The Ledge kept fighting the good fight. David Bowie, who has proclaimed The Ledge "an American legend", recently covered The Ledge's "I Took A Ride On A Gemini Spaceship" on his latest album, Heathen.

The Ledge returns the favor by covering Bowie's "Space Oddity", proclaiming, right before playing it, that he's "never heard it". Which seems to be par for the course here. The Ledge and his band play monstrous, wild, uncontrollable roots-rockabilly, but with so much flare, it is quite possibly better known as quirky or unidentifiable.

Is The Ledge a legend? One listen to Tokyo and you'll know the answer. The Ledge plays rockabilly and roots with all his might, and heart, delivering a mind-blowing performance that will make you love him, make you hate him, and make you want to be him. I'll give this an A.