Trabant & The Funerals
Moment of Truth & Pathetic Me (Thule Musik)
By: Cam Lindsay



Iceland is the place to be from as of recently. With the release of Bj?rk's masterpiece last year, the continuous fawning for majestic heroes Sigur Ros and the recent interest taken in electronic soundscapers M?m, newer Icelandic acts like Trabant and The Funerals can't lose. Or can they? Sharing band members like dope users do needles, the two acts could not be more different. Trabant is "a synth heavy electronic space rock band", while The Funerals are "a slow country band".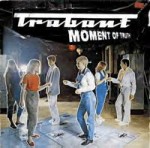 Moment of Truth, the debut album from Trabant is a rich sounding electronic album that avoids any danceability, and aims more for a voyage of weird, spacey prog-like adventures. The songs sound like a clash between Air, Hawkwind and Add (N) To (X). While the music is extremely interesting and filled with great sounds and noises made from the band's array of impressive equipment, there really isn't much soul to the record. The songs seem to miss out on reaching the intended destination, and instead, wander in limbo. They lack the charm of Air, the originality of Hawkwind and the perverse nature of Add (N) To (X). A track like "Bahama Banana" is a wonderfully silly piece of electro-pop, but there isn't enough of it on the record to keep it afloat. Unfortunately, Moment of Truth sinks. C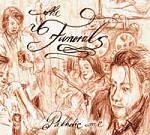 Pathetic Me, the debut album from The Funerals is the sound of country western heartbreak coming from a very un-country and western area. Obviously drawing their sound from influences like Gram Parsons and Will Oldham, The Funerals are very unique because they sound so different from anything else coming from their country. While it can be argued that the aforementioned Icelandic bands are leaders in their sub-genres, The Funerals do nothing wrong on their album. Pathetic Me is a collection of delicate songs filled with passionate vocals, hushed guitar and gentle drums. Of course, the highlight is a song about being afraid of teenagers, but that's what happens when you write lyrics like "Pimple face and evil eyes/Talking way too loud/Pushing me in the video store/Acting so horny". B+