Reel Big Fish
Cheer Up! (Jive Records)
By: Alex Steininger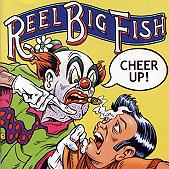 Reel Big Fish's sophomore full-length, Turn The Radio Off is the album, propelled by the singles "Everything Sucks" and "Sell Out", that found RBF all over the radio and TV, helping earn the band a gold record and catapulting them to the front of the ska-punk movement.

On their third full length, Why Do They Rock So Hard, the band dropped the ska and went completely power-pop, delivering catchy, hook-laden fun albeit the lack of the danceable, happy-go-luck beats that made Turn The Radio Off so loveable.

On their fourth record, Cheer Up!, the band continues on the power-pop path, still writing tongue-in-cheek, silly love songs and geek-rock anthems. Without the ska, they seem two dimensional, but have enough sugary hooks to compensate and deliver an enjoyable treat.

"Rock 'N' Roll Is Bitchin'" is the band's three minute spoof of 70's heavy metal as it continually chants "Rock 'N' Roll Is Bitchin'" and meaning every word of it.

"Ban the Tube Top" finds the band at the top of their game, writing a hook-laden silly love song about an underage girl that turns them on because of the skintight tube top she is sporting. Horns blazing, lead guitar riffs intact, and front man Barrett's tongue-in-cheek, yet serious vocal delivery oh-so-sweet, this is what pop music is all about.

Though not all songs are so lucky. Some fall prey to their own saccharine ways and relying too much on the sweetness while falling short in the energy department. Songs like "Suckers", the danceable ska ditty "A Little Doubt Goes A Long Way", and the title track live up to the RBF name and come through with hook-laden, fun pop.

With nearly an hour of music and sixteen tracks, RBF was bound to throw in some filler, which they do. The overall quality of the album, though, is solid and delightful, with the band's non-stop combination of sly humor, good pop, and a healthy dose of giving the kids what they want making this an enjoyable ride. I'll give it a B.