Pulp
We Love Life (Rough Trade Records)
By: Alex Steininger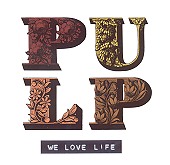 British popsters Pulp are back at it again with We Love Life, their seventh album, and an album chalk full of subtle melodies, breezy hooks, and plentiful pop goodness. It is a rich, well-produced masterpiece brought to life by acoustic and electric guitars, a steady, solid rhythm section, and Jarvis Cocker's sly, sexy, comfortable voice delivering the intellectual lyrics.

Cocker's delivery is flawless. Meditative at times, and aloof at others, Cocker knows how to turn the simplest phrases into works of art. With the dark backing of his band, Cocker could turn a phrase like "Do you want fries with that?" into a profound statement on life. Too bad he doesn't have to.

The lyrics and recounting of life on this record blend effortlessly with the music, creating a sonic, full sound that is anything but forceful, allowing the songs to gently swim by, giving you the chance to wrap the songs around you like a blanket or keep your distance.

Their most enhanced disc to date, Pulp strip the songs down to their bare skin, dress them up, make them sound elaborate, and then once again break them down to their most simplistic components. The result is a warm, beautifully crafted album that rids itself of the bullshit and non-essentials that so many bands count on. I'll give it an A.