Hot Snakes
Suicide Invoice (Swami Records)
By: Alex Steininger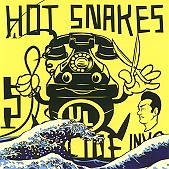 Combustible rock, garage mayhem, and vintage pop, The Hot Snakes' Suicide Invoice is an indie rocker's wet dream, a hip, stylish offering fueled by all that is good. With traces of pop here and there, the sweet melodies glow, while the chaotic, carefree rock is hammered out without a second though, the band playing it sloppy and loud, the way it should be done.

The noise surrounds you. The volume makes you shake. The vocals screaming, but understandable, holding back just a little to cater to the pop sensibilities of the song, while unleashing everything else they have to ensure your body is quivering and ears are focused on the sounds coming out of your stereo.

This is a rock record that has everything for the indie kids. It is fun, it is guitar-laden, it has hooks, and it doesn't give a fuck. It just wants to rock out, party, and allow you the privilege of hearing some damn fine music. I'll give this an A-.