Spazz
The Jeb EP (Sub Pop)
By: Jeb Branin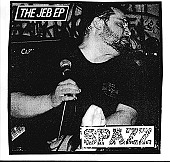 This posthumous SPAZZ record is definitely for died-in-the-wool-I'm-such-a-SPAZZ-freakazoid-that-I-gotta-have-it-all hardcore fans. Released as a one off project by Curtis Rantcore (www.rantcore.com) of Plagiarism Records, it is meant to be a tribute to the end of my zine (The Crass Menagerie) that recently closed up shop after several years and 100 issues. As anyone who read the zine knows, I am such a SPAZZtic fanatic that the band eventually dedicated a song to me called "Jeb For Ruler of the (Formerly) Free World" (affectionately called "The Jeb Song") on their final album "Crush, Kill, Destroy." They also invited me to do guest vocals on that same track at their farewell gig a couple of years ago. This record is a double AA side single with the studio version of the Jeb song remastered on side A and the live version of the song from the final show on the flip side. So yes, I "sing" (for lack of a better word) on this record which means it is stupid for me to be reviewing it. So sue me.

In the true spirit of SPAZZ record collecting dorkdom, there are only 300 copies available of this first pressing. The cover is xeroxed in the classic punk tradition and was designed and laid out by Dan, the guitarist for SPAZZ. The original idea for the record was bassist Chris Dodge's, who responded to an email Curtis sent out asking for an idea on what to do as a tribute to the end of The Crass Menagerie. Making the record went on in secret (well secret to me, everyone else in the world knew about it) so I didn't find out it existed until Federal Express brought a package to my office at work. Upon opening the package and seeing the record I laughed so hard that I started choking and my office mates thought I was having a seizure (which is not dissimilar to my vocal performance frankly, now that I think about it).

If you have not heard SPAZZ (shame on you) or the Jeb song; it is a rapid-fire and grinding aural assault with a massive bass line, grating guitars and maniacal drumming. SPAZZ became the defining band in the ultra-extreme power violence scene and this tune is a classic example of their approach... which is like the musical equivalent of the invasion of Normandy in terms of violence, noise and bloodshed.

The record won't last long at only $3 post paid, so order it now if you too want to be an official SPAZZ doofus. Send $3 if in the U.S. or $5 everywhere else to Curtis Dickinson at 924 5th Ave. Redwood City, CA 94063 or email Curtis at [email protected] for instructions on ordering with a credit card via PayPal.