Sahara Hotnights
Jennie Bomb (Artist Direct Records)
By: Alex Steininger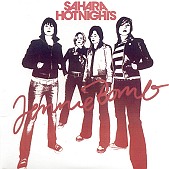 Sexy early twenties females playing dirty, sexy rock 'n' roll, this Sweden-based quartet is poised to take the U.S. by storm with their American debut, Jennie Bomb. If the fact that these girls have been playing together for over nine years doesn't impress you (that would make them barely teens when they started), one listen to Jennie Bomb will.

As fierce as it is sexy, the quartet thrashes through their own brand of punk rock, hitting you with sizzling guitars, hot-to-the-touch bass, and plenty of pounding courtesy of the drums. All this ensures that your head rattles, your body moves, and your eyes look on in amazement.

These girls know how to rock. They crank the songs out with so much spirit, proclaiming both rock and punk aren't dead, and putting their money where their mouths are.

Put on Jennie Bomb and let the bomb hit you. This is a rock 'n' roll explosive that will floor you the first dozen times you listen to it, and never seize to blow you away even after countless listens. I'll give it an A.