Gore Gore Girls
Up All Night (Get Hip)
By: Alex Steininger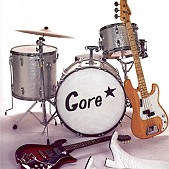 Rock 'n' roll should not be cute. Especially garage rock. However, the Gore Gore Girls turn the dirty, sweaty fun of rock 'n' roll into something that looks good and sounds great. They just can't help it. They're so cute themselves and the music is impeccable.

Tipping their hats to traditional R&B, the Detroit-based duo helps Detroit live up to nickname "Rock City". Their second album, Up All Night a screaming collection of guitars and drums, wailing as the sweet vocal harmonies deliver the touch that makes their brand of rock 'n' roll so adorable and unforgettable.

Stripped down to just the core essentials in rock, with the exception of organ on a few songs, the Gore Gore Girls take the best of AM pop, the best of Motown, and the best of traditional R&B and make rock music that doesn't seem to be lacking anything. I'll give it an A.