Candiria
300 Percent Density (Self-Released)
By: Jake Beamer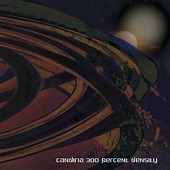 Candiria's new album, 300 Percent Density, is going to please fans of the band. It will also introduce the band to new fans, due to Candiria's ever-increasing diversity. However, I've been a Candiria fan for a while now, and some of this material sounds a bit recycled. That would be my only complaint about the record.

For some background, Candiria is often labeled a hardcore band. Or, "urban fusion" is a term I've heard thrown around. But what they really are is just a hardcore/death metal/jazz/hiphop/ambient amalgamation. I know, I know, it sounds impossible. But what these men do is truly amazing, they mix these genres into a cohesive whole, sometimes integrating many or all of them into a single song.

Now, Candiria's songs are LONG. They have "chapters" or sections, many times these sections sound totally different from each other. The band debuted in 1995 with their first record Surrealistic Madness (quite metal but amazingly listenable), then followed it with 1997's more hip-hop infused Beyond Reasonable Doubt. Then came the utterly brilliant (and probably their peak) album Process.of.Self.Development in 1999 (which I reviewed when it was released).

What really makes Candiria's sound, if I can mention quickly, is the fact that Carley Coma (lead singer) is so amazing at both a rap and a growl, plus guitarist John Malonti really has mastered both grind and jazz. And as another small note, the DRUMMER of this band, Kenneth Schalk, actually writes and produces much of their music, he's an accomplished jazz drummer... and well, just a fabulous jazz musician all around.

This fourth Candiria outing (counting out the miscellaneous little releases here and there like the all-jazz Ghosts of the Canals or a Method Man cover) entitled 300 Percent Density, touches upon all albums of the past. After a few listens, you can really hear where the band has evolved sound-wise and grown into their shoes as sound experimentation and song arrangement geniuses.

Opening up the first song, the title track "300 Percent Density", you may think you've heard this Candiria before. But actually, go deeper. The next song "Signs of Discontent" really opens up the rock-and-roll doors (rare!) and all the hip-hop songs on this album are different... faster and interestingly styled but still amazing. Takes a few listens, seriously. Even for a Candiria nut like me.

But the coup-de-grace of the whole album is that killer last track. Nearly TWENTY TWO MINUTES of just really cool relaxing and whacked-out ambience. Now that's what I call an all-time great record ending. And it's really a decent album overall. Doesn't top Process but really, what could. That's a tough one to beat. 300 Percent, after listening, actually lived up to my expectations and left me wanting more.

So give this disc a listen, it's worth your time and wait for that new one, C.O.M.A. Imprint, to come out... double-disc and unreleased material galore!