SHOW REVIEW: Badly Drawn Boy
Amoeba Music - Friday, May 31st, 2002 (Hollywood, CA)
By: Liane Chan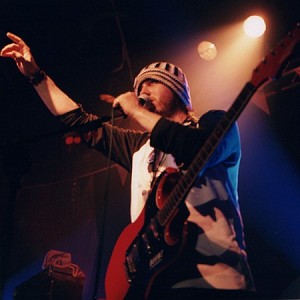 L.A.'s finest record store, Amoeba Music, was packed for one of their many great in-stores. It was Badly Drawn Boy in his only Southern California performance, though he had been making the rounds around local clubs like Bang! when Ladytron were doing a guest DJ set a few weeks before. I've heard that many famous actors and musicians are calling him up these days.

Amoeba hosted an equally packed instore for Paul Westerberg's only L.A. appearance a month before. The instore seems to be the best way to sell records and reward loyal fans by giving them a chance to see their favorite musicians perform, then meet them and get something signed. I got my Roadmovie 7" single (ltd. to 500) featuring Doves signed by Damon Gough, who seemed sad at not being able see the Doves due to his own record store tour.

Badly Drawn Boy played his unique brand of mellow and smooth sounding acoustic-electric folk-lounge-electronic pop rock for about an hour and a half. It seemed like less because he was very entertaining and funny, dressed in his trademark striped hat, which many members of the audience attempted to imitate with slightly different hats - or maybe it was just a coincidence. His metallic shirt sparkled even from the back of the store.

He played a number of songs off the new "About A Boy" soundtrack including "Silent Sigh" and "Something to Talk About." He sang an obscenely funny song about an employee at Amoeba rival Aron's Records and a cardboard cutout of Mariah Carey. He even asked if I got the Roadmovie single at Aron's! Another highlight was his cover of "Oh What a Night."

For his closing song, he had bunch of roses which he handed to individual members of the audience at the front of the packed store and improvised a song that featured them after he got their names, kind of like "88 lines about 44 women" except he sang about some men also. It was a definite a crowd-pleaser which amused the whole audience, even those who just wanted to buy some records and might have been annoyed by the store's crowdedness.