Mira
Apart (Projekt)
By: Sean Strauss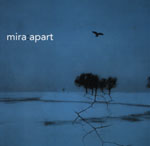 Projekt label's marketing department does a wise thing upon releasing new material to the public. Every artist's CD comes equipped with a fold-over flap that provides a few tasty bytes from a favorable review, allowing Joe and Jane Music-Shopper to get a hint of what they will be purchasing. In the case of Mira's sophomore effort, Apart, the flap reads: words just don't capture the raw emotional power of the album to suck you in and spit you out, staggering in wonder, as written by ink19. It is easy to become overzealous when reviewing an album that you are very passionate about, allowing hyperbole to become the momentary equivalent of restraint. After eleven months and over a hundred first-note to last-note listens of Mira's Apart, this reviewer can assure you of one thing, this album is magnificent.

Mira proved with their self-titled debut album that they were gifted song-writers with a motherfucker of a wild card in singer Regina Sosinski's sublime voice. The powers that be decided to sprinkle the velvet faerie dust, because a year later, despite band member alterations, the refurbished group produced an album so beautiful and complex that it often feels like all the mysteries of women transformed into an hour of music. There are moments during Apart where becoming completely enraptured is just the first of seven gates. The chemistry between these five musicians is so alive it deserves a nickname. The tracks are composed of complementary Jeckell and Hyde guitar riffs, intoxicating bass lines, percussion that dares you to imitate it, and a pair o' lungs that will lull you into a world of eternal first kisses.

It is interesting that Mira would open their album with the only keyboardish sound on the entire album, a fifteen second effect that sounds like a Star Trek hangover, which leads into an otherwise perfect punk/dance ass-kicker called "Space." The majority of Sosinski's lyrics revolve around intimate relationships, and "Space" is no exception as the battle cry of "too much anger/is the passion over/sorry just won't cut it anymore" is laid out like napalm.

By the time Apart hits track 3, "In theory," you are pretty much in the trance of the Pied Piper heading obliviously towards the sweet hereafter. It is within this song that the first sign of the magic flute is revealed. Everything begins casually; the guitars of Tom Parker and Mark Davidson whisper back and forth; the sticks of drummer Alan Donaldson gently make love to all of the tom-toms; Melody Fleck lets her bass moan only on the top of measures, and Regina croons again about love and vulnerability. This is a typical lovely goth/shoegaze piece, but three and a half minutes into the song, you realize what sets Mira apart (no pun intended). Soaring in from nowhere, the right channel is filled with deliciously scathing guitar fuzz, and then all self-control is lost. Alan smashes the hell out of his cymbals, Mark and Tom's guitars leap from the ballet studio into the mosh pit, and Regina's voice doubles up and swims around your head like a Zen goldfish on ecstasy. Then the album gets really good.

The fire-breathing guitar riff that opens up "Green" clears the slate for what is probably the most elaborately mixed piece of music since the Smashing Pumpkins bled thirty-five guitar tracks into "Soma." Regina's voice runs a marathon through a nightmare of labyrinthian patterns that the band spreads around her. Laced with feedback tapestries and distortion tunnels that border on mystical, "Green" is like Alice in Wonderland interpreted by Bosch. If you ever wanted to know what it would sound like when an angel wept, listen to this song with your eyes closed. As the album turns the corner into "Stainless," the tears turn into a raging storm. Like "In theory," the build up is slow but as Regina builds her internal rage, her bandmates respond with a series of synchronous thrusting lashes on their instruments bringing the fury to a head. As Sosinski bemoans the "stains [that] won't come out," the subconscious easily drifts to another "scorn'd woman" desperately trying to get the spots out. Then the album shows you what Mira can do with a little help from their friends.

The heart-wrenching seven minutes of "Plastique" displays Sosinski at her most naked and delicate. "So I've lived for 29/signs of life around my eyes/Would I do things different now?" By holding a mirror to herself, the themes of self-analysis and self-realization are less painful to examine for the listener. Just when you think you have time to reach for a Kleenex, the sweet presence of a violin appears like an apparition and sends you spiraling through tender clouds of melancholy; this pocket of gold by Juliet Sy permeates the atmosphere of the band and creates something that can only be described as love.

It is true that Mira can be linked with a hundred bands that sound similar to them. The members of Mira do not deny their influences of Slowdive and the Cranes and Cocteau Twins; any band who denies being influenced by other great artists are either liars or should not be playing music. Where would Led Zeppelin have been without the old blues masters? Where would Prince have gotten his stage presence were it not for James Brown? The same argument goes for Mira. However, as the final thunder streaks of "Hollow" complete Mira's Apart, you will not be thinking of other bands. You will be thinking of only one and wondering why it took them so long to find you.