Neko Case
Blacklisted (Bloodshot Records)
By: Alex Steininger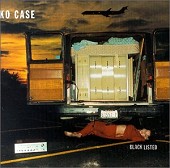 On her latest solo offering, Neko Case does what she does best. She writes pop, country, and dark folk songs, weaving them into a tight collective of memorable, emotionally contagious numbers that flow from one to the next. Allowing you to absorb one song after another. Reflecting on it all at the end of the album, putting the pieces of the puzzle together, and seeing the full picture materialize.

By then you're so hooked, you go hit the replay button and listen to the album again and again. Neko Case has a way with her guitar, using its enchanting siren, dark and weepy or upbeat and promising, to reel you in as you rest in her voice and let the rhythm section absorb your discomforts as they help you shake off your worries.

The overall feeling of this album is sleepy, blurry-eyed emotions and late night thoughts. "Look For Me (I'll Be Around)" combines a slumbering acoustic guitar with quiet, majestic piano. The gentle strumming of the guitar caresses you as you close your eyes and take it all in, while the beauty of the piano puts a smile on your face.

"Stinging Velvet" is more upbeat but equally dark. A lightweight country undertone sweeps through Case's folk-pop, giving you something to tap your feet too while Case lets you into her world.

And then there is the title track, an eerie, mysterious country-folk song that is as suspenseful as it is beautiful, Case's voice shining above the darkness, making you feel as if she's trying to lure you into a dark alley to tell you a secret.

Case's oft-gentle voice and light strumming of her acoustic guitar, backed by a little bit of country and some rock 'n' roll, makes Blacklisted a gem, a treasure chest of substantial songs that will make you weep, make you think, and make you smile. I'll give this an A.