Alice Stuart
Can't Find No Heaven (Burnside Records)
By: Alex Steininger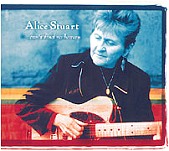 An esteemed songwriter from the 60's, Stuart released her first record in '64 (All The Good Times on Arhoolie Records). She earned plenty of critical praise album after album, eventually hanging up her guitar in favor of raising a family when the 80's hit.

But, with music in her blood, and her fingers itching to get back out there and record and perform, Stuart re-entered the world of music in the 90's, releasing two albums on her own label, Country con Fusion - Really Good and Crazy with the Blues.

Her latest, Can't Find No Heaven, finds her in fine form, delivering lively blues as she travels between electric and acoustic offerings.

Writing her own songs, Stuart also enjoys interpreting others work, stating in the CD that "without interpreters, many of these songs would be lost forever as well as die with the author".

Each of the eleven songs on the CD find Stuart's top notch guitar playing leading the way, as she sizzles and slides through one blues-y piece to the next. Her voice sounds experienced and wise, tender and graceful, as well as optimistic and fun loving.

It is apparent on Can't Find No Heaven that this is what Stuart loves to do - and she is quite good at it. Throughout the well-produced eleven tracks, produced by fellow Burnside Records recording artist Terry Robb, a critically acclaimed, award winning guitar player, Stuart is in good hands, ensuring that each song fully realizes its potential. I'll give this an A-.