Shoeshine Blue
Shoeshine Blue (Cornwhiskey Records)
By: Alex Steininger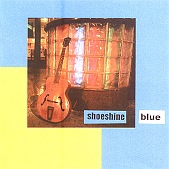 Blues troubadour Shoeshine Blue embodies the definition of independent. Creating his CD booklet and tray cards at Kinko's. Hand stuffing them in the jewel cases. And burning his CDs as needed at home, as well as recording his albums at various apartment and hotels on a four-track portastudio, his efforts, as well as his music, is grassroots all the way.

It is this mindset, the need for a personal touch that makes Shoeshine Blue the undiscovered gem he is. A rare find, the home spun singer-songwriter that writes and records songs that are beyond his experience, sounding like a seasoned vet that has a long list of recording credits rather than an up-and-comer poised to break, if only in the underground.

His songs are easily accessible. He plays the blues with enough heart and soul that you instantly relate to him, his songs, and the emotions. But, flavors it up enough that the blues aren't the only thing you're getting. Sweeping in some lo-fi folk and the occasional pop hook, he creates a readily appealing sound that will have hardcore blues purists taking a second look, but will also have indie kids proclaiming "blues" the next big thing. I'll give it a B+.