Hutch and Kathy
Hutch and Kathy (Jealous Butcher Records)
By: Alex Steininger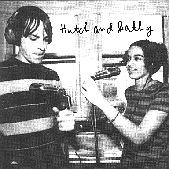 Lo-fi pop songs that thrive on two-part vocal harmonies. The duo of Hutch and Kathy (formerly known as Urban Legends) deliver a well-polished debut, a testament to the powers of home recording, as it soaks in all the flaws and imperfections of the lo-fi world and uses it all in its favor.

The self-titled full-length offers up whispery guitars over faint drums while Hutch's voice overpowers all; buzzing organ layered on top of lightly crashing drums and a sweeping guitar. Or sweet vocal harmonies floating atop a delicate backdrop. Somehow, no matter how loud or quiet the music gets, Hutch and Kathy remain in control, as their voices come to the forefront, carrying the melody and pushing the songs forward.

"On The Way To Work" demonstrates the band's ability to turn a seemingly lo-fi, folk-rock song into a bouncy indie pop treat, with the buzzing organ swimming note to note, the vocal harmonies re-defining the melody, and the harmonica livening things up.

"Half There Tears" is a singer-songwriter piece carried out by the acoustic guitar and Hutch's voice before the drums come in and give the song some foundation to stand on.

Then there is "An Infinity Loop", a fast-paced, toe-tappin', acoustic pop ditty that will have you singing along and moving your head in approval.

Hutch and Kathy go for the minimalist approach, offering up simple, yet pleasing melodies and equally simple vocal harmonies and beats, ensuring that less is more on more than one occasion. I'll give this a B+.