Render
Spanning Time with Ani DiFranco (Righteous Babe)
By: Sean Strauss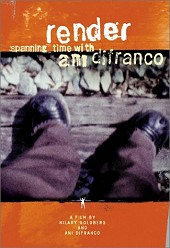 Buffalo, NY folk-singer Ani DiFranco is a role model for storytelling, self-realization, strength, solicitude, a charming sense of modesty, and a great laugh. These qualities were the special bonuses to an obviously talented musician who just happened to be an icon for lesbians, feminists, and political activists. After years of searching for all the TV scraps and video bootlegs available, it appeared the sisters of mercy blessed the fans with a feature length documentary entitled "Render: spanning time with Ani DiFranco." Considering the running time of two and a half hours including the DVD extras, it's easy to imagine getting a lot of DiFranco's personality, isn't it?

There have been some amazing musical artist documentaries or "rock-umentaries" over the years; Pennebaker's "Don't Look Back" (Bob Dylan) and Gee's "Meeting people is easy" (radiohead) are the first to come to mind. These films provided the titillating and dangerous opportunity to see one's favorite musical artist(s) being "real". The audience was given a taste of what made that person tick. And while Render does unobtrusively cover some rare ground, it also teeters between being sensually gratifying and unforgivably self-serving.

It often feels like DiFranco made Render for her loved ones, rather than the ones outside the Righteous Babe ring who love her. While holding true to the title "Spanning time with Ani DiFranco", there isn't much of a subjective opinion because, as in keeping with DiFranco tradition, she practically did everything herself. One of the great things that DiFranco projected over the years was her humility when it came to her work. This documentary is anything but humble. DiFranco assumes that the watchers care as much for everyone around her as they do for her; she doesn't realize that the audience needs some of her private time. DiFranco's answer to this is smoking a joint for the camera. Sorry, that is not seeing into the nakedness of a great recording artist, even though it is about as irresponsible as she can get.

On the other hand, there are long rides through Render using the objective point-of-view which feel sacred. There is a rather beautiful forty-five minute sequence, in which Ani sits atop the Lincoln Memorial and the camera trots along the South while issues of race relations and capital punishment are cross-cut between stage performance and casual discussion. The bookend to this sequence is the brilliant placement of the song "Your Next Bold Move." Essentially, DiFranco is saying: [Now that I've shown you all this, what are you gonna do about it?]

However, again, the problem of forgetting the audience arises because there is hardly any contact information for the political establishments visited. And it's also strange that a piece which so unashamedly badgers the South (however just it may seem), would exploit concert sequences from Tennessee.

The song selections nicely complement where Ani is going thematically. However, those hoping for a collection of Ani faves are going to be immediately discouraged. It seems like there was a colossal amount of footage and DiFranco was trying to make the best of it all.

Unfortunately, something got lost in the editing suite. The purpose, the goal, and the process all became hazy in an attempt to put the spotlight on her family of friends rather than where it needed to be. And in an almost equal slap across the face, DiFranco's label, Righteous Babe Records, which usually challenges overcharging and ludicrous shipping fees, slapped a hefty ten dollar mark-up on this item in comparison to the retail price at everyday music stores.

Ani DiFranco has three families: the ones who gave her life, the ones who strengthen her life, and the ones who provide for her life. "Render..." cares about one of these families.