The Lune
Blameless (Crow Point)
By: Gary "Pig" Gold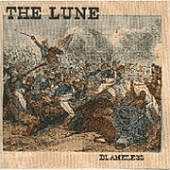 Okay everybody! Set your Wayback machines for the Summer of '66 and imagine this scenario:

Instead of crashing over the handlebars of his motorpsycho late that July, Bob Dylan decides instead to recruit his Band-mates The Hawks to record an entire album fashioned after their recent number 1 (for eighteen consecutive weeks, holding off "Yellow Submarine" and even "Last Train To Clarksville"!) smash, "Rainy Day Women # 12 & 35."

Well, though it may now be nearly 35 years kinda late, THIS is that album. Yes, Boston's The Lune have somehow managed to appropriate all of the drugged Dixieland of that particular Dylan, added a dash of Muswell Hillbillism, and the result is nothing short of one chaotic, noisy, wholly unstrung, cantankerously semi-Cajun-even joyride through the inebriated underbelly of American rootsy-rock -- sort of as if Tom Waits and Marty Robbins had decided to commandeer the Paint Your Wagon score, I kid you not.

Or, more succinctly put perhaps, "Everybody MUST Get Stoned!"