Kasey Chambers
Barricades & Brickwalls (Warner Bros. Records)
By: Alex Steininger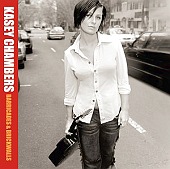 Australian singer-songwriter Kasey Chambers' sophomore release, Barricades & Brickwalls avoids the plague of the sophomore slump, as Chambers delivers one of the year's strongest singer-songwriter releases. Incorporating country, pop, and folk, the country songwriter gives country a run for its money.

Strong melodies, passionate lyrics, and stellar musicianship equate to a good time. Chambers takes you through varied formats, managing to tie the country songs together with the modern pop pieces, and intertwining the two on her folk pieces, bringing together all walks of life with her impeccable voice and lived-through-it singing style, coupled with her poignant, universal lyrics.

Chambers is a true treasure in the music world, a gifted singer-songwriter who has the chops to write a variety of songs and styles, and the sophistication to make it sound like a complete body of work, rather than a songwriter struggling to find an identity. Barricades & Brickwalls should have no problem finding a wide(r) audience; I'll give it an A.