Donnie Darko
Rated R (FOX Home Video)
By: Randy Harward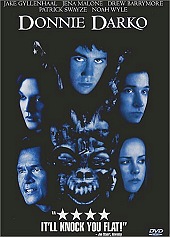 A prime example of black comedy done well, Donnie Darko follows it's namesake (played by Jake Gyllenhaal) through an apparent battle with mental illness, of which visits from a demonic bunny rabbit are a byproduct. Scary in parts, hilarious in others, the film manages to entertain as well as drop relevant commentary. Patrick Swayze breaks out of his golden boy image playing a motivational speaker with a dark secret; he's never performed better. Worth a purchase, as opposed to a rental. GRADE: A

Special features: Widescreen anamorphic, Dolby, commentary by writer/ director Richard Kelly and star Jake Gyllenhaal, theatrical trailer, "Cunning Visions" infomercials, "The Philosophy of Time Travel" book, "Mad World" music video, deleted scenes with commentary, art gallery & production skills, weblink, TV spots.