John Vanderslice
Life and Death of an American Fourtracker (Barsuk Records)
By: Alex Steininger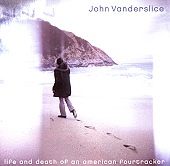 Hot on the heels of 2001's "Time Travel Is Lonely," John Vanderslice is back at it again with another solo album, Life and Death of An American Fourtracker [1981-2000], an album of all-new material.

Delicate, simple pop songs with an emotional spiral twist, the album has its shining moments. Vanderslice's relaxed voice fits the lightweight pop songs as his deadpan approach musters up enough energy to carry the bouncy, hook-centric melodies.

However, the lo-fi mindset of the well-recorded, well-produced pop gems takes them down a notch. The Ben Barnett-penned "Interlude #5" and the close-to-Ben Barnett-sounding "Nikki Oh Nikki" mark low points for the album. "Nikki Oh Nikki" tries to pull on your heartstring like an annoying Kind of Like Spitting song (something that Vanderslice should try to avoid), rather than keeping with the Vanderslice-flavor on the rest of the album. I'll give it a C.