King Django
Reason (Hellcat Records)
By: Alex Steininger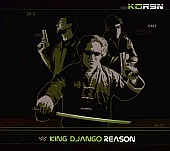 During Ska's third wave heyday in the mid 90's, a select few rose to the top of the heap and shined as the true innovators and creators of the direction ska was heading. New York's King Django was one of these, a man who could write fast, catchy ska-pop, punkish ska songs, reggae-soul, traditional ska, and everything in between.

His bands, Stubborn All-Stars and Skinnerbox, as well as the countless other projects he was involved with as a producer and back-up musician, including everything that came out of his Version City Studio, redefined the ska sound. When you think about ska in the 90's, King Django is one of the first names that should pop into your head.

With his debut solo album, on Rancid's Tim Armstrong's label, Hellcat Records, King Django once again stretches everyone's expectations of what a ska musician should be, pushing the envelope with a sound that is nothing like he's done before and everything like it.

The opening track, "Reason", blends roaring rock guitars with a traditional ska groove and hooks that seem to come out of nowhere and sweep the ground out from underneath you.

"Kick It Out" has you jumping up and down to a reggae-punk song that just cruises by without a second glance. "Never Try" delves into King Django's soul background, as he soothes you over with a gorgeous soul-ska blend. Then there is "I Got A Ride", a Jamaican pop song that brings to mind sunny beaches and Pina Colada's.

"Chase Pum Pum" is a hot and heavy groove about sex and women, sang in a way that only King Django could pull off, offending some and making others laugh.

"Lies and Rumors" is the album's Long Island Ice Tea. Blending elements of everything else found on the album, throwing in a splash of mixer, and giving you something fresh and new - reggae, soul, heavy grooves, and a slow, simmering pace that will float into your subconscious and find you burning herbs along to the stoned song.

King Django has always been one to write songs you can dance and party with, sit back and get stoned to, or just blast on your stereo for fun, and Reason is no different. His most eclectic, focused album to date, King Django circles the musical globe while his focal points never change. I'll give this an A.