Josh Rouse
Under Cold Blue Stars (Ryko Disc)
By: Alex Steininger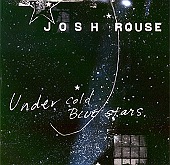 Rouse's third full-length, Under Cold Blue Stars finds one of America's brightest pop singer-songwriters creating a timeless, eloquent pop album once again, with accessible melodies and fervent lyrics pouring out.

"Nothing Gives Me Pleasure" is a bouncy, hook-laden mellow number. It displays Rouse's perfect blend of warm vocals, his ear for writing some of the most astonishing melodies, and his gift of putting his emotions into the words so the listener can feel what Rouse is feeling while relating to it on many more levels.

Other stand out tracks such as semi-rock of "Christmas With Jesus", the simmering pop of the title track, and the soon-to-be radio hit "Feeling No Pain" all prove that Rouse is in it for the long haul, a musician that has many more memorable albums ahead of him. Though, why think that far ahead when you can slip into Under Cold Blue Stars and enjoy it from start to finish many times over. I'll give this an A.