INTERVIEW: Southern Culture on the Skids
Meat Me in Salt Lake City - Southern Culture on the Skids Brings Chicken and Boogie
By: Randy Harward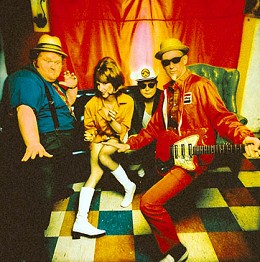 (Previously published in the Salt Lake City Weekly)

It used to be about the chicken. Southern Culture on the Skids, the band who...ahem...carved their niche servin' up slow-roasted, reverb-basted surfabilly odes to fried chicken, banana puddin', pork and possum, had evidently pulled the equivalent of KISS ditching the makeup: they went veggie.

The evidence was almost indisputable: in August, www.scots.com featured an announcement that on September 8, 2001, SCOTS would headline the 21st anniversary party of the world's foremost animal rights champions, PETA (People for the Ethical Treatment of Animals), and the popular "Recipes" section of the site now contained meat-of-wheat blueprints for corn dogs, "Mamaw's Mock Meatloaf," and some atrocity called "Burgoo." The ostensible betrayal...Judas' Belch?...was devastating. Even barnyard animals on line for slaughter raised middle hooves and feathers in contempt.

But, despite the evidence, SCOTS fans know better. The band...singer/guitarist Rick Miller, singer/bassist Mary Huff, drummer Dave Hartman, and multi-instrumentalist Chris "Cousin Crispy" Bess...encompasses a porch-perched, barbeque scarfin' hillbilly image and a propensity for churning country, rock, R&B and surf into a finger-lickin' good groove. The recipes were temporary, and the show was just another gig...PETA just didn't know who they hired.

"I don't know why the hell they had us, to be honest with you," drawls Miller, high on the aftertaste of his lunch; an "awesome" plate of jalapeno sausage, beef brisket, and ribs.

Hartman adds, "Some of the things they were saying--they weren't trying to tow any middle ground. We were looking at each other like, 'Oh, my God. If they knew anything about us, they would lynch us right here.' It was like Marilyn Manson or Slayer playing a Southern Baptist convention."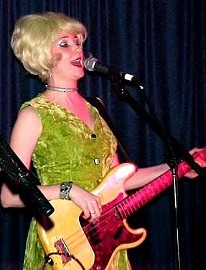 PETA presented SCOTS with a list of do's and don'ts...no leather shoes, et al...and the band had to drastically alter their show by changing or excising songs that referenced meat or animal byproducts; no small task for the would-be poster band for Carnivore Pride Day. Gone were "Hittin' On Nothing"...on the setlist, but pulled at the last second when Miller remembered a line about a mink coat..."Too Much Pork For Just One Fork," and live staple "Eight Piece Box," during which the band tosses fried chicken into the audience. It was the first time "Eight Piece Box" was omitted since a 1992 prison tour, where officials nixed the chicken for fear the bones would later be used as shanks. "We did open with "Run, Chicken, Run," says Hartman, "but that's an instrumental, so they had no way of knowing."
"If they knew how many chickens have lost their lives for us to further our careers," says Miller, "we'd have been in big trouble. It was fun, though. We can get along with anybody."
If SCOTS dodged certain disaster that evening, they certainly did again on September 9, when they departed New York for their home state of North Carolina. "We got one of the last views of the World Trade Center," Miller says soberly. "That was weird, to be there; to be that close to the whole terrorist situation."
"It was kind of a weird thing," says Hartman, "because the weekend before that, we were in Johnstown, Pennsylvania, which is less than fifty miles from where that other plane crashed. Then, we were in Texas all this last week, where they keep finding stuff out. We're in Arizona now, and if they start finding people in Arizona, I'm really gonna start thinking this is weird."
Since at least one hijacker is known to have lived in Arizona for a time, the weirdness might manifest as a group of cow-worshipping Sikhs bent on punishing SCOTS for their meaty transgressions...but we'll save that theory for a future episode of Behind the Music. The band is simply making a final round of the states supporting their sixth album, Liquored Up and Lacquered Down (TVT).
Recorded in winter 1999 at Kudzu Ranch, Miller's "totally old school" 24-track home studio, LU&LD revisits SCOTS' more countrified Ditch Diggin' (Safe House, 1994) era, toning down the rock as heard on their last DGC release, 1997's Plastic Seat Sweat, and dipping a toe into Tex-Mex on the title track and 60s pop on "Just How Lonely." "I think we were just ready for that," explains Miller. "We did the whole thing with the major label and I think they had a little bit of an influence on us to move in a little more rock because they were just all about radio airplay. That just doesn't work for us."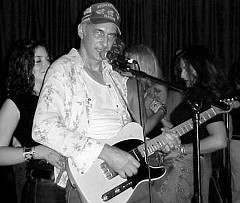 Initially, the plan was to release the record on independently, as with the 1998 horror-themed EP, Zombified. But once the record was nearly complete, eMusic.com and TVT Records stepped in and offered to jointly release it online and to retail. So far, so great, says Miller, who envisions doing the same after SCOTS returns to Kudzu Ranch in November to cook up another mess of tunes. They'll stop in Salt Lake City on the way back, for the first time since 1998, when they transformed the Zephyr Club and a capacity crowd into a veritable backwoods jook joint full of hooting hillbillies.
Incidentally, thieves lifted Miller's "Boogie Machine" Les Paul and Huff's cherished Fender Precision Bass in the aftermath, only to anonymously return them unscathed to SCOTS' Chicago-based management company six months later. No hard feelings from the band, and Miller says he can't wait to get back to SLC.
"[Last time] was really amazing," he says. "It's been so long--I'm lookin' forward to playin' there again. We'll have a good time. Oh, yeah, man. We'll make a mess. We'll get it messy. Tell 'em to get ready. We're gonna do some slippery smooth and in the groove, man."
And there's gonna be chicken!