Ghosts Of Mars
(PG-13) (Columbia Tristar)
By: Randy Harward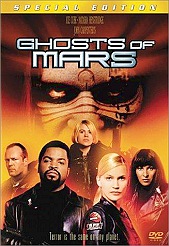 John Carpenter's tale of Martian zombies (derived from Event Horizon, no doubt) was promising, but ultimately pulseless. The gore is somewhat satisfying, but doesn't compensate for the half-assed performances and half-baked plot (a team of soldiers, led by Natasha Henstridge, goes to Mars to pick up captured criminal...Ice Cube, whose character is almost certainly derived from Wesley Snipes' in Demolition Man--his name, in fact, is "Desolation" Williams...only to discover the planet's inhabitants have been possessed by evil Martian spirits). Worth a rental if you can't find anything better on the shelves.

Extras: digitally mastered audio and anamorphic video, English and French subtitles, commentary from Carpenter and Henstridge, video diary, SFX deconstruction, scoring featurette, filmographies.