Evil Dead
Book Of The Dead Edition (R) (Anchor Bay Entertainment)
By: Randy Harward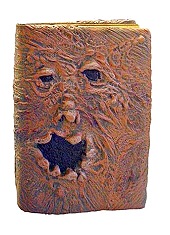 A wise man said of this very special edition of the classic film (presented in a swwwwweet latex replica of the Nerconomicon ex Mortis...the Book of the Dead) : "[When I saw this], I shit up my back. It rocks the trailer!"

There's simply no better way to put it. No need to review the film. We'll let the special features dominate this review. They are as follows: widescreen 1:85:1, commentary from director Sam Raimi and producer Robert Tapert, another commentary track from star Bruce Campbell, behind-the-scenes footage and outtakes, a documentary made by Campbell, a making-of featurette, theatrical trailer, TV spots, poster and still gallery, talent bios and a French language track (Spanish would have been sweet, but if wishes were corpses--).Oh, and there's a color booklet. The book itself contains about fifteen pages of artwork and weblinks. Another wish: a DVD-ROM portion with at least a demo version of the Evil Dead PC Game would have been nice.