Johnny Cash
The Essential 2-CD Set (Columbia/Legacy)
By: Alex Steininger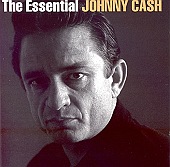 The man in black turns 70 and the celebration begins. Country's #1 outlaw musician, Johnny Cash delivers a 2-disc "Greatest Hits" package appropriately titled The Essential Johnny Cash. The dark, dreary songs of Johnny Cash are instant classics, from the Folsom Prison theme song "Folsom Prison Blues (Live)" to the ultimate song about love, "Ring of Fire", Cash will always be one of the world's best musical storytellers.

With special guests ranging from wife June Carter Cash, Bob Dylan, Willie Nelson, Waylon Jennings, and Kris Kristofferson, Cash has no problem creating the best re-issue of 2002 and automatically one of the best albums of 2002 as well.

Cash and Dylan do a mesmerizing version of Dylan's "Girl From The North Country", Cash gets the laughs and entertains a lucky crowd on the live version of the standard "A Boy Named Sue", and Carl Perkins' "Daddy Sang Bass" is matched only by Cash's version.

The showstopper is Cash's award winning "Folsom Prison Blues", recorded live at Folsom in 68. The crowd cheers and Cash gets into, giving you the most passionate performance you're likely to ever hear.

Anyone remotely acquainted with Cash will love this album, and die hard Cash fans, who will most likely have these songs on other recordings, will still want this package for its flow from one Cash classic to another. A must have, hands down. I'll give it an A+.