Hope Sandoval & The Warm Inventions
Bavarian Fruit Bread (Rough Trade Records)
By: Alex Steininger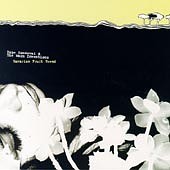 Hope Sandoval, the former front woman for Mazzy Star, returns with her debut full-length solo album, a follow-up to last year's At the Doorway Again EP. Sandoval's new band is The Warm Inventions, featuring ex-My Bloody Valentine member Colm O'Ciosoig. The record is Bavarian Fruit Bread, an album that finds Sandoval returning to her familiar Mazzy Star sound while O'Ciosoig brings in a new array of musical imagery, recalling his My Bloody Valentine days. Together the two ensure that Bavarian Fruit Bread is a stunning collection of pop tunes, oft-dark, while maintaining a warm, optimistic edge.

"Drop", the opening track, is an ethereal examination of pop music, quietly brushing the surface with subtle pop melodies, flushing out the song with soft, sparse instrumentation that floats, allowing you to find a comfortable spot and nest there while the beautifully spun music blends with Sandoval's hypnotizing voice.

"On the Low" adds a bit of a splash to the soundscape, lifting things up as the percussion taps in the background and Sandoval's voice, often quiet and whispery, starts to soar, rising to the occasion and leading the still slow, but not-as-quiet song to victory.

"Charlotte" is another whispery number. The soft, but full acoustic guitar carries the song while Sandoval's voice gently glides through with ease, perfectly and precisely adding the ethereal quality to song - like it does on every song - which makes the song more than work. Her voice makes it an instant winner with its breathy, chilling side positioned comfortably next to its warming, dream-laced half.

"Baby Let Me" is perhaps one of the darkest, most chilling songs on the album, coming to life as a spooky piano part for the entire minute and a half duration. It is quickly followed by "Feeling of Gaze", a song that adds a bit more instrumentation into the mix. The piano, strings, and guitar work to back up Sandoval's voice, creating a collage of eerily beautiful, warm pop melodies that play together to deliver one of the album's strongest numbers. Not a mere feat for an album filled with gorgeous, breathtaking excellence.

Sandoval and O'Ciosoig work well together. Bavarian Fruit Bread is what you'd expect from the former Mazzy Star front woman, though rather than meeting expectations, it stuns you by living up to everything you had hoped and then going the extra mile. This is truly captivating songwriting at its best, an optimistic, melodically rich album hiding behind a dark, melodically deprived masterpiece.

Some may feel this album is a bit too lacking on the melodic side. That is because those listeners will only be listening on the surface. To experience this record to the fullest you need to give it a deep, concentrated listen, and from there you will never want to let go, as its gripping beauty and warm spirit will live inside you. A must have for music fans. I'll give it an A+.