Glampire
Drop Dead Gorgeous (Musesick)
By: Alex Steininger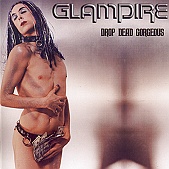 Taking into account the band name and the artwork (which has a man in make-up with his hair all dolled up like a girl, and money in his g-string), I figured this would be a bad goth record. One that would either make me want to throw up or laugh my ass off. However, it's true, you can't judge a book by its cover.

When I put this CD in I was pleasantly surprised. Though the lead vocalist sounds very feminine, he can sing, delivering a beautiful, mesmerizing addition to the lush, glorious melodies that he creates. Stunning, warm pop music, Drop Dead Gorgeous is the type of record that will instantly hit you and ensure you keep it within your reach for months on end. It is a strong, well-written collection of radio friendly pop with a slight electronic bent that will, without doubt, find you asking yourself 'how?', much like I am now. I'll give it a B+.