MxPx
The Renaissance EP (Fat Wreck Chords)
By: Alex Steininger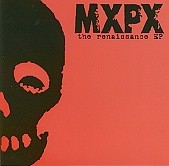 Hit making pop-punkers MxPx deliver a solid EP with The Renaissance, a collection of nine songs that solidifies the band's punk rock roots. Rather than giving you a five or six song EP, the band offers up nearly twenty minutes of two minute pop-punk nuggets that bounce around with hook-laden melodies, but also grab you with the fast, shin-splitting punk rock engine that propels the band.

Whereas MxPx's latest material has focused more on their pop side, The Renaissance EP focuses on their punk side, keeping the pop there to hook you while shooting ahead with fast, furious rhythms, and sharp, buzzing guitars to add the crucial edge. It seems MxPx is going back to their roots to remind themselves where they started. I'll give this an A-.