Nobukazu Takemura
Sign (Thrill Jockey)
By: Alex Steininger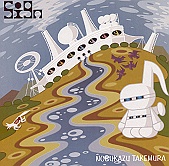 Sign has exceptional music - over sixty minutes of it. But, before we get into that, let's talk about disc two. Disc two features animation by cover artist Katsura Moshino, creator of Japanimation, futuristic-esque cartoon animation, and dizzying blends of swirling, jaw-dropping designs. The man is brilliant when it comes to his art, as is Nobukazu Takemura, the artist behind the music on Sign.

With only four tracks, Sign isn't the most ideal sixty minute CD. However, Nobukazu Takemura somehow keeps you interested and entertained throughout, throwing in the absurd with the ridiculous and the mind-blowing. From sounds that make you believe your CD player is skipping to robots speaking through jungle rhythms and electronic beats, Nobukazu Takemura delivers one of the year's best experimental electronica records. One that is more comfortable in the pop world than it is in the experimental realm, but one that fits so well in both. I'll give it an A+.