Flickerstick
Welcoming Home The Astronauts (Epic Records)
By: Alex Steininger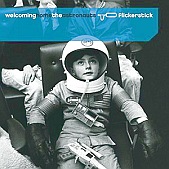 VH-1's musical version of survivor, "Bands on the Run" put four bands on the road, competing for box office receipts, merch sales, and when all else fails, a board of industry experts, to pick the winner. Though, on the final episode Flickerstick was behind Soulcracker in tour earnings, a last-minute victory at the final battle of bands helped propel Flickerstick to the top.

Winners of VH-1's reality-based TV show, Flickerstick won $50,000 worth of gear from Guitar Center, some cash, a video on VH-1 (for their song "Smile"), and a label showcase. Of course, labels swarmed. This time, Epic Records came out on top, buying the rights to re-release Flickerstick's debut full-length, Welcoming Home The Astronauts.

The big question here is, is it any good? You want the band to suck so you can sit back and laugh at them, mocking them because you know all they'll ever be known as is the band that won VH-1's "Bands on the Run".

I don't think Flickerstick will escape the inevitable tag that will plague them for quite some time, at least until they have a few platinum records under their belts and prove themselves. Or, fall flat on their faces and fade off into oblivion, reliving their fifteen minutes every time they re-run "Bands on the Run".

Flickerstick's Welcoming Home The Astronauts is a decent album. It is not ground breaking, nor is it completely boring. It has its moments, like the shining pop of "Coke", a bouncing, rich song packing a punch with a soaring hook into the chorus and charming, lyrically gripping verses.

Another stand out track is the tantalizing "Chloroform The One You Love," a song about chloroforming a girl who keeps rejecting you. Beefed up with some rock, the band shows their ability to let loose, crank up the noise, and layer it with some quirky space pop riffs. Not a bad song for a band that comes off sounding like emo-rockers trying to do punk rock Goo Goo Dolls with commercial appeal.

Having just said that, yes, Flickerstick often reminds me of the indie version of Goo Goo Dolls, trying so hard to be the rockers Goo Goo Dolls once were. Though, they seem to settle into the top 40 sound that the Goo Goo Dolls have since adopted (de ja vu from when the Goo Goo Dolls did this to The Replacements?).

"You're So Hollywood" is a jolting rocker that lets it all hang on the line, while "Direct Line" is a slow, swirling slight-psychedelic pop number. Weaker moments on the album include "Lift" and "Got A Feeling," two easily forgettable hook-laden radio-ready rockers, and the over-produced, over compensating, lackluster attempt on "Smile," the last song, in my opinion, that should have had a video made out of it.

The band's debut single, "Beautiful," is a fine pop song with a sturdy rock rhythm section pushing it to the limits, cranking up the noise when the guitars blast off, and delivering an unforgettable, easily digestible song you'll be chanting for weeks.

If Flickerstick just keeps on going, making a tongue-in-cheek situation out of winning a reality TV show to get where they are going, they will do fine. They have the music to back it up, proving they're not some VH-1 contrived pop act trying to cash in on rock stardom. Rather, they're skilled musicians who know how to write some very memorable songs, even if half this album sounds weak compared to the finer moments you'll find here.

However, if they try to seriously play down the VH-1 show or worse, embrace it and bask in it, they'll be doomed to fail. Which will it be, boys? Something tells me they'd just soon forget the show ever happened and move on. I'll give this record a B.