Fairburn Royals
Sunshine Slowdown (self-released)
By: Alex Steininger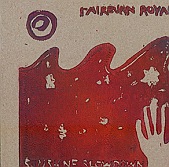 The Fairburn Royals' Sunshine Slowdown is aptly titled. Much like a day, it offers up warm, delicate-ness, in the form of pop music, but as it progresses it gets a bit darker, slipping into night. But when night comes, instead of getting cold and dark, it stays warm and relaxed, preferring to have a bit more of a rock edge than all-out melodic pop.

Having never heard of Fairburn Royal, I was very surprised when I listened to this CD. It is fine-tuned with great pop songwriting, complete with well-written lyrics, plenty of melodies, hooks, and nice, sweet vocals to cap it all off. This is a fine pop album that will stay in your CD player for some time. I highly recommend it. I'll give it an A-.