SHOW REVIEW: Spiritualized
Roseland Theater (Portland, Oregon)
By: Kurt Dahlkie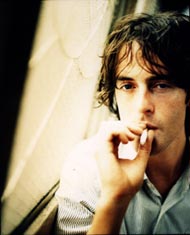 Jason Pierce has a new album out from his constantly morphing conglomerate Spiritualized. Let it come down is the album's name, and it's unquestionably the best since the first, Lazer guided melodies. More gorgeous nursery rhymes for your inner-acid casualty, sad but hopeful, layer an album with arguably no missteps. There's more blunted Wagnerian sturm und drang too, which never plays so well as when you're stoned out of your mind with cigarette smoke swirling around your head while sitting on your couch with the sun streaming all around and you're feeling you really should be outside but can't quite make it.

Sadly, large amounts of time pass between each new Spiritualized album; it's been four years since the last original studio recording, Ladies and gentlemen, we are floating in Space. That huge time span saw the release of a live album, however, and a complete overhaul of the band. Jason also found time to write some of his most enjoyable tunes in years.

You wouldn't know that the band is supporting a new release from the current tour, though. In fact, the number of bona fide new tunes played tonight was equal to the number of Spacemen 3 tunes played, three. Three songs from the new album. And that's not including what you'd have to call the breakout single, Do it all over again, which would be playing from convertibles the world over if it were summer. It's good Spiritualized has got a real strong catalog to pull from.

Thirteen people crowd the smoke covered stage, under a relentless barrage of swirling colored spotlights. Cop shoot cop-- commences in ominous, grinding fashion, spiraling pinwheels of sound and color. Now comes the freakout. Fans of Spiritualized know what I'm talking about, 5 solid minutes of distorted guitars violently droning and squawking, discordant horns, and prominent cymbals crashing. It's awe inspiring when you realize it's all under tight control, and that the band can stop on a dime, slipping into a sinuous groove. And then they do that very thing for 5 minutes during or between nearly every song. Well, maybe I didn't take the right drugs before hand. Nevertheless, the latter, groovy half of Cop shoot cop--, after all the noise, is rock solid and stunning in blue vibrating floodlights. The narcotic two-chord vamp extends endlessly over a tricky slow-jam rhythm, ultra-heavy dub-style bass and a circular chorus of "ahhs" while Jason whispers in our collective ear.

The dour impresario takes advantage of an opportunity to abuse his telecaster from stage left on Electricity, a song that's about 80% freakout and 20% tune, but segues nicely into the gorgeous, warmly colored Shine A Light. Looping, sad horn charts doubled by guitar close the tune, swinging the room through a velveteen haze.

The ersatz tribal-gothic mantra, Born never asked by Laurie Anderson, is the well-chosen cover tune of the night, creating a thicker, heaving atmosphere before finally succumbing to some Spiritualized excess.
Which reminds me of the constant tone throughout the show. The Spiritualized tone. A fluctuating feedbacky undulation, a keyboard key stuck and gone wrong, weaving a path through the air. It preceded the show for ten minutes, and by and large, it coursed through every song. In fact, the Spiritualized tone may be a substitute for Jason ever speaking. An inaudible "thank you" (at least I think that's what he was saying) after the last encore was his only comment.
Before that Spaceman-fueled coda, however, a few exercises in Reichean repetition intersperse the rest of the tunes. For instance, consider the six ascending notes played repeatedly in an ever more frenzied action for five minutes. I'll take my licks in a less monolithic style, thanks. But damn, I love Spiritualized, after a Spacemen 3 song or two (Sound of confusion, So hot (wash away all of my tears), Lord can you hear me?) the band plays actual, new songs, and I remember why I'm here. The epic, gospel death prayer Won't get to heaven (the state I'm in), throws the crowd into a dark, nicely understated religious funk; the simple, swinging back beat leading us all in a communal, if not fatalistic, prayer.
Spiritualized has a deep backlog, and a mile-wide swath of psychedelic buzz. Jason is writing great orchestral junk-pop songs. It would be nice if he played more of them on tour. With the freakouts and the workouts, it's sometimes hit or miss, depending on your mood. Nevertheless, the game is winner take all. Molding the room into its own inner/outer-space world through an overwhelming barrage of lights, smoke, and sound, Spiritualized, inevitably, wins it all.