INTERVIEW: Deborah Gee
Singer-Songwriter
By: Sonya Brown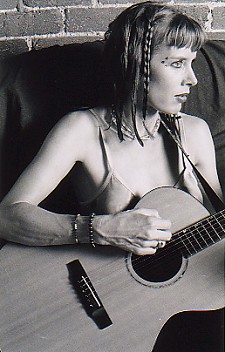 Deborah Gee has worked with some amazing talent. Devo drummer, Alan Myers, contributed to most of the percussion on her debut CD, "Portal". Many other famous producers/engineers and musicians have contributed to Deborah's music, including Mike Clink (Guns and Roses), Tal Herzbeth (Beth Hart), C.J. DeVillar (Michael Jackson, Sisqo), and Michael Woodrum (Queen LaTifa, The Neptunes), Chris Lord-Alge (Tina Turner, Joe Cocker, Bruce Springstein), and Jon Ingoldsby (Elton John, Madonna).

I had the pleasure of meeting Deborah Gee back in September when she performed at Mt. Tabor with TourBaby 2001. Deborah sings from her heart, and her lyrics contain raw emotion. Not only does Deborah Gee have a track called "Treasure" on her new CD, "Portal"; but Deborah IS a treasure. Deborah dedicates "Treasure" to her audience, but I feel the real treasure is to be found in the voice, music and softly swaying movements of Deborah Gee.

As I borrow from the lyrics of "Treasure"... this "precious jewel", Deborah Gee, now shares herself with In Music We Trust.

Sonya: Please tell us a bit about Deborah Gee! How would you describe your sound?

Deborah: A cross between Tiny Tim and Megadeth-- just joking! Ummm-- well, I really like the way Chris Lord-Alge described my sound as haunting and sensual. I consider myself a contemporary singer/songwriter, more in the vein of Kate Bush than the 1960's style, such as Joan Baez. On the cd we used a variety of sonic textures, but live the sound is more guitar oriented.

Sonya: Your new CD is titled, "Portal" - why/how did you decide on this title?

Deborah: I felt that the album as a collection of songs was an introduction or a "door" into knowing me, so 'Portal' seemed like the perfect title.

Sonya: Why did you chose to have CDBaby carry "Portal"?

Deborah: Because it is in my opinion the best online independent music store. Derek Sivers, the owner has such an awesome vision of how to help independent artists sell their music. He is very encouraging regarding networking, etc. He shares many paths to marketing yourself.

Sonya: Where else might listeners find copies of Portal?

Deborah: www.amazon.com You may also find copies at Tower Records, Sherman Oaks, California (soon Portal will be available at www.towerrecords.com).

Sonya: I love your lyrics. They are so REAL. What can you tell me about the person that you wrote the song "Warning" about?

Deborah: It's about someone I went out with for a couple of months who lied to me about being serious about the relationship. After a series of disappointments, I got the message to "walk". Funny thing is, he still wanted to see me as long as it was on his terms, but I said no, they don't work for me.

Sonya: Along those same lines, I would love to know about your inspiration for the song "Say What You Mean"!

Deborah: I was tired of people not saying what they mean. It wasn't just one event or inspiration. So many times, people communicate inadequately or intentionally mislead you because of whatever undercurrent may be driving them emotionally or because they can't deal with an issue directly. When I wrote, "truth is like an avalanche", I was thinking of how I responded honestly but brutally to someone because I was feeling hurt.

Sonya: You mentioned at your website (www.deborahgee.com) that you worked with Devo drummer, Alan Myers. Please tell our readers about how you met, and the band that you started together.

Deborah: Alan and I met at my second gig ever. Yes, I did say second-- Anyway, he approached me after the gig and introduced himself. He offered to play drums or percussion for me if I liked. He said, "I think you have potential" (by the way, he gets embarrassed when I mention that!). I had no idea at that time that he had been the drummer for Devo. I played with him for a few months before I knew that.

That band also included Thomas Gallagher on guitar, who co-wrote some of the songs with me. Thomas and I are still writing together. That band played together for three years. It was my first serious band. I learned a lot from Alan. Alan and I are still good friends and occasionally work together. In fact, he played most of the percussion on Portal.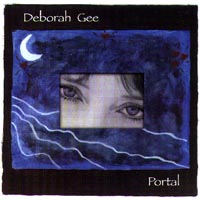 Sonya: Tell us about all of the hearts I see on your website and on the Portal CD! What do these "hearts" mean to Deborah Gee?
Deborah: I painted the heart design on the back of my cd cover. My cousin Matthew @ www.redcage.com designed my website and utilized the heart image for my website.
I painted the heart because it represents love, which is the spiritual center of what I am trying to communicate with my music.
Sonya: Your musical influences cited at your website are quite eclectic (from Pink Floyd to Joni Mitchell?!) What artists would you most like to collaborate with on some of your future projects?
Deborah: If I get to choose from anyone, I would say Peter Gabriel. However, I am presently happy working with Thomas Gallagher, Alan Myers and Glen Laughlin (The Thorns, ex-Dickies) on my second album.
Sonya: You recently embarked on a rather major tour of the West Coast with other CDBaby artists (dubbed TourBaby 2001). What experiences did you bring home with you from this tour?
Deborah: I heard some great artists on the tour which I may not have heard had I not been there. I really enjoyed the camaraderie between the artists and the audiences were great. On the practical side, it helped show me what is involved in successfully planning and executing a tour.
Sonya: I was fortunate enough to catch 2 of your Portland performances during the TourBaby tour, and I thought you were fantastic! Please tell us a bit about your touring partner, Morgan Lewis...
Deborah: Morgan and I played together for nearly three years and it was a great experience. We are not presently working together, but we are still friends and we may work together in the future. Morgan also performs with the artist "Rayko"@ www.rayko.com.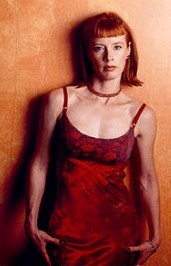 Sonya: What is your favorite song to perform live - and why!?
Deborah: Treasure. I love to dedicate this to the audience to remind them and myself that we are all "treasures".
Sonya: In 1998, your song, "Pearl", was used in the film "Between The Sheets". Are there any other movie soundtracks in Deborah Gee's past/present/future history?
Deborah: Pearl has now also been placed in the film, "The Smokers", a new film starring Thora Birch (American Beauty). I have been discussing the possibility of placing other songs from Portal with other music supervisors. Keep your fingers crossed!
Sonya: What else might the future hold for Deborah Gee?
Deborah: We recently did a showcase for some labels and got some very positive feedback.
In the meantime, I am working on the second record. There is also a possibility of doing a European tour next year.