VARIOUS ARTISTS
Jay and Silent Bob Strike Back: Music From The Motion Picture (Universal Records)
By: Alex Steininger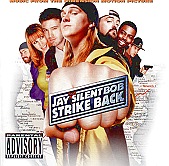 One of the funniest movies of the year, if not the funniest album of the year, Kevin Smith and Universal Records have succeed in compiling the only soundtrack worthy of a movie this good - a combination of movie clips, humor, and ballsy music.

Afroman's "Because I Got High", the highly recognizable single from the movie, is a pot smokin' hip-hop groove sure to become a guilty pleasure, with you rapping and singing along to this infectious hit.

Marcy Playground's "The Devil's Song" showcases John Wozniak's clever, witty songwriting and pop sensibilities, delivering a hook-laden, bouncy song that is soaked in both substance and fun. This band is recently without a label, opting to leave Capitol and shop their upcoming album around. With undeniable melodies and a grace for lyrics, Wozniak and company should have no problem finding a new home. Then there is the suburban pop-rock of Stroke 9's "Kick Some Ass," jumping out of the gate with roaring guitars, crunchy melodies, and a powerful pop texture glossed over modern rock fire. And let's not forget Bloodhound Gang's "Jackass," a fast, rocking pop-punk comedy routine.

Of course, Steppenwolf's legendary "Magic Carpet Ride" deserves mention, as do tracks by PJ Harvey, Run-D.M.C., and Morris Day and the Time. And let's not forget the clips from the movie between every song, tracks like "Jay's Rap," a potty-mouth rap that will have you cracking up.

The best comedy of the year, if you haven't seen it, you should. As for the soundtrack, it manages to live up to the high quality of the movie. Kevin Smith scores a hit all around. I'll give it an A-.