VARIOUS ARTISTS
Friday at the Hideout: Boss Detroit Garage 1964-67 (Norton Records)
By: Alex Steininger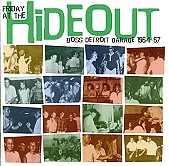 The Hideout Club and Hideout Records, a collective that helped establish the suburbs of Detroit in the sixties. Hideout Records sparked the career of Bob Seger, Glenn Frey, and Cub Koda. The club provided future hometown favorites like Ted Nugent, Mitch Ryder, the MC5, Terry Knight and the Pack, as well as countless other acts a place to launch their sound and career. Friday at the Hideout gathers the premiere garage tracks from the Michigan label's 1964-67 heyday.

The Underdogs roll out the thunder with "Friday at the Hideout," a danceable, R&B garage rocker. Four of Us create a pop-garage classic with "I'll Feel A Whole Lot Better" as well as stomping rocker on "You're Gonna Be Mine". Pleasure Seekers keep things wild with their contributions, including "What A Way To Die" and "Never Thought You'd Leave Me," two explosive tracks featuring wailing female vocals from this beautiful all-girl quintet.

Plenty more music from the above mentioned bands as well as Doug Brown and The Omens, T.R. and the Yardsmen, Henchmen, Torquays, Mushrooms, and the Fugitives (also covering Dave Leone's "Friday at the Hideout") make this a knockout collection of garage rock insanity. I'll give it an A+.