VARIOUS ARTISTS
American Pie 2: Music From The Motion Picture (Universal Records)
By: Alex Steininger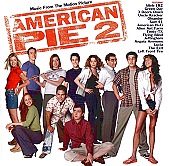 I haven't seen the movie, but geared towards teens, American Pie 2 found its audience in the theater and became a hit or miss film with everyone who went to see it. The soundtrack, music like the movie, will appeal to teenagers and modern rock listeners, with a who's who of modern rock making this the blockbuster soundtrack of the summer.

Blink 182 ("Every Time I Look For You") and Green Day ("Scumbag") start it off with two blistering pop-punk songs filled with bouncy thrills and plenty of content to make you a fan. American Hi-Fi ("Vertigo") hits you with crunchy guitars and some power-rock. And Uncle Kracker's ("(I'm Gonna) Split This Room In Half") rock-tingled hip-hop grooves is enough to get you bumping and grinding with a smile on your face.

Rounding out the soundtrack are artists like Oleander, Alien Ant Farm, Fenix-TX, and 3 Doors Down. Like I said, a who's who of modern rock and hard rock radio. Most certainly one of the most high profile, blockbuster soundtracks of the year. If this movie is even half this good... I'll give it a B+.