Reindeer Section
Y'all Get Scared Now, Ya Hear! (PIAS)
By: Alex Steininger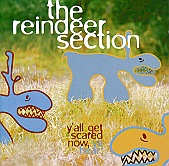 Y'all Get Scared Now, Ya Hear! is a progressive album that starts out with a heart-on-the-sleeve acoustic number ("Will You Please Be There For Me") and moves up the ladder. It passes through songs like "If Everything Fell Quiet" and "I've Never Understood", two mid-tempo pop songs with a slight-jarring rock beat to them.

Reindeer Section's pop credentials are not in question here. Featuring members of Belle & Sebastian, Mogwai, Arab Strap, and Snow Patrol, Y'all Get Scared Now, Ya Hear! is one of the finest indie-pop releases of the year. Trading in lo-fi-ness for completely lush, well-recorded pop gems with harmonious backing vocals, strong melodies, and plenty of sensational rhythms to overtake you, Reindeer Section crafts sensitive, truly brilliant numbers like "Sting" and the guitar-rock force of "Tout Le Monde". From acoustic guitars to full-on pop songs, with enough rock to shake things up, the band knows how to write memorable, meaningful pop songs with a lot going for them. I'll give this an A.