Khan
No Comprendo (Matador Records)
By: Alex Steininger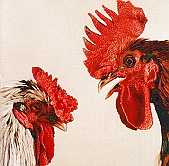 The first thing that you'll notice about No Comprendo is the guest vocalists, including John Spencer, Kid Congo Powers, Andre Williams, and Hanin Elias (Atari Teenage Riot). Jon Spencer's "Monster" is a spooky mix of Spencer's trademark hard-edged blues vocals and Khan's quirky, electro-rock. Kid Congo Powers' "Why Hurt Flesh" is a haunting sing-along. Andre Williams' "Mercy Mama" is soulful space-blues. And Jon Spencer's second contribution, "Fishies Fuck" is a sonic blast of punk-rock electro-blues gone manic.

Khan delivers an eccentric, hard-to-describe album with plenty of marquee guests playing the devil's music along with Khan. Rocking, electronic, and eerie, you'll feel shivers up your spine every time you listen to this album. I'll give it a B+.