Coco B's
Basement Songs: Firehawks and Dirtybirds EP #1 (K Double)
By: Alex Steininger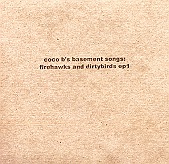 One of the best albums of the year, if not one of the shortest (clocking in at eight tracks lasting thirteen minutes), Los Angeles' Coco B's deliver a solid debut, with Firehawks and Dirtybirds, the first in a two-part EP series slated before the band releases a full-length. The next one promises to be more rock oriented, whereas Firehawks and Dirtybirds is a beautiful, lo-fi pop masterpiece.

Centered around Kevin's sweet, mellow lead vocals and Bob Penn's instrumentation, Coco B's manage to concoct electronic-tingled, melodic pop with a fresh coat of indie rock paint. The keyboards add a lush, harmonious feel to everything, while the acoustic and electric guitars bring the songs to life, with the drums and bass tying it all together.

Truly brilliant, I can't wait to hear what this band does next. More of a studio project than an active band at this point, when this band decides to go for it, fans will flock to them. I would never give an EP of this length an A, but the music has twisted my arm. It's too good to resist. I give it an A.