Centro-Matic
Distance And Clime (Idol Records)
By: Alex Steininger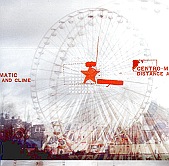 Lo-fi, garage-driven indie rock, Centro-Matic adds punch to the tried, but oft-tired indie rock format. They then throw in some garage rock tendencies and blend it all with some lo-fi heart, cranking out the controllable, but often let-to-run-wild sounds that get you shaking and moving, unlike so many other indie rock bands. And on tracks like "Tonight Is Not It," the band even takes some time to deliver some emotionally charged, stripped-down acoustic music for you to bleed along with.

This is a strong album that will grab you by the ankles and turn you upside down. It is unconventional in a lot of ways, traveling waters that have been traveled many times before, but managing to add their own feel to it along the way. I'll give this an A-.