Various Artists
Take Action - Plea For Peace (Asian Man Records)
By: Alex Steininger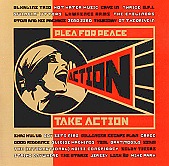 Asian Man Records' benefit album for Kristin Brooks' Hope Center, a suicide help center, Take Action - Plea For Peace is a twenty-eight track compilation with some of the hottest names in the indie rock, punk, hardcore, and ska scenes.

From the power-pop of Alkaline Trio's "My Standard Break From Life" to AFI's hardcore punk on "Who Knew," through tracks by Swingin' Utters, Lawrence Arms, Atom and His Package, At The Drive-In, Boy Sets Fire, Dillinger Escape Plan, Good Riddance, The Ataris, Suicide Machines, and many more, Asian Man delivers a compilation chalk full of good music for a good cause.

This is one of the best compilations I've heard in 2001, with non-stop good music throughout; not a clunker to find. I'll give it an A.