Ryan Adams
Gold (Mercury Nashville)
By: Rick Cipes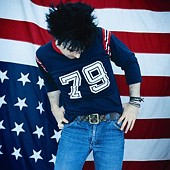 Tempestuous and tortured, sad and lonely, confused and longing for understanding in a world where romantic love often equals pain and loss, singer-songwriter, Ryan Adams is desperate to find unity in the tangled web of chaos called Eros. Which is good news for music fans, because on his second solo album, Gold, after splitting up with his alternative country band, Whiskeytown, Adams puts together his hybrid of alternative country, classic and roots rock, and searing ballads into a compelling album that announces the arrival of a major force in rock n' roll.

Serendipitously, Gold comes along at the right time. Released only two weeks after the tragic events of September 11, the album cover features an American flag draped behind a photograph of the singer. In addition, the first song on the album is aptly titled "New York, New York," a pithy, affectionate, double-edge love letter in which he bids farewell to the city, and to the love of his life, before a move to Hollywood to record Gold. (Gold is so named because it describes Los Angeles at dusk.)

In Gold, written as an open letter that was meant for one woman in Adams' past (possibly Winona Ryder), the songs evoke memories of Neil Young, Bob Dylan, the Stones', and the Band, among others. Adams wrote all the songs on his acoustic guitar, making sure they worked honestly by themselves. When Bernie Taupin reports that Sir Elton John was influenced by Adams' simplicity, in making the new John and Taupin collaboration, Songs From the West Coast, you can say that this brash, 26 year old North Carolinian has begun to shake, rattle and roll the music biz.

Adams plays a style of music which is not easily categorized, but he belongs in the company of other well respected alt bands of the moment like the Jayhawks, Wilco, and the Old 97's. Bands which have a loyal cult following, but because of the current nature of the music business, have had a hard time busting out with a major radio hit to propel them into the mainstream. (Yes, it is doubtful that Carson Daly will be playing any of their tunes on TRL.)

As for the eclectic melodies themselves, "Nobody Girl" is a richly-textured ballad sung directly from a wounded ego attempting to strike back at the heart that no longer feeds it; while on the flip side, "Gonna Make You Love Me," sounds like vintage Neil Young, a confident parable about how Adams will make that same "nobody girl" love him all over again; "When the Stars Go Blue" is a poetically-beautiful reminiscence about the need for a helping hand; and "Harder Now That It's Over," another Youngian feel, holds the lyrics which are perhaps the key to Adams creative "voice":

It's harder now that it's over /
Now that the cuffs are off /
And you're free /
Free with a history/

It's that "history" that lingers on and informs the prolific Adams' music (four albums and several EPs lined up for the near future) and makes him the vulnerable virtuoso that he is, a crooner embroiled in a maelstrom of the lovesick blues. It's trying to solve the riddle of these blues which fuels Adams' tapestries of disillusionment, and if he keeps at it, who knows, one day his work may just go Gold.