Rival Schools United By Onelinedrawing
Split CD-EP (Some Records)
By: Alex Steininger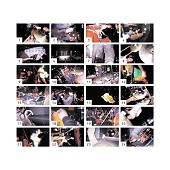 A split-EP between Rival Schools and Onelinedrawing, this is album delivers six sonic songs, three from each band, and both very different front each other.

Rival Schools' deliver pounding, alt-rock noise with plenty of indie pop volume and Onelinedrawing continues to create beautiful, lo-fi singer-songwriter pop songs that are timid, yet confident, loaded with pop structure, but with enough folk to keep it from sounding entirely indie rock.

Not bad for Rival Schools' first official release. And, Onelinedrawing keeps on serving up songs you'll love. You can't go wrong. I'll give this a B+.