The Dropscience
Experimenting With Contrast (Happy Couples Never Last)
By: Alex Steininger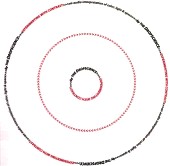 The Dropscience's Experimenting With Contract is a sonic explosion of post-hardcore math-rock, burning rhythms, and meteor shower guitars, bursting and popping against sonic walls of noise.

This is the type of album you put on if you want to go crazy, ripping through layers upon layers of melody, bringing the noise in ample amounts, and making you just sweat. Though, the band's ability to get quiet, start building momentum and then shower you with power is intoxicating. I'll give this a B.