VARIOUS ARTISTS
Initial Records Punk Rocker Sampler (Initial Records)
By: Alex Steininger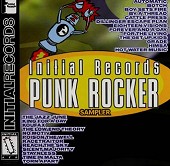 One of the indie world's premiere hardcore/punk labels, Initial Records' Punk Rocker Sampler is a who's who of the scene, delivering tracks by Boy Sets Fire, Dillinger Escape Plan, The Get Up Kids, Hot Water Music, Koufax, No Motiv, Poison The Well, and more.

Everything from Koufax's organ-drenched snappy pop to Get Up Kids poppy-emo-punk and Hot Water Music's blend of hardcore, this album has everything fans of punk, pop-punk, emo, or hardcore will enjoy. An aggressive, rocking collection of songs, Punk Rocker Sampler will introduce you to new bands you'll love or give you more of your favorites. I'll give it a B.