VH-1'S BANDS ON THE RUN
Josh Dodes Band
By: Alex Steininger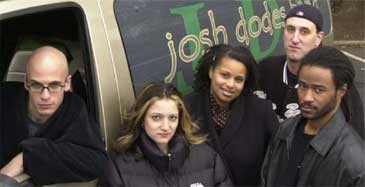 "The truth is, I didn't enjoy the show" says the bald-headed, shy-looking, but very charismatic front man Josh Dodes, of the Josh Dodes Band, on his experience with VH-1's reality-based band survival show Bands on the Run. "It was great for us, but if I wasn't involved with the show I would not have watched it. Music was given the short end of the stick and I'm into music, not reality-based TV shows."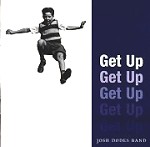 Releasing his band's debut full-length, Get Up, a year prior to the show, Dodes seems happy to see Get Up picking up momentum and getting a second wind. An album that "combines different styles that each player brings to the table," according to Dodes, Get Up will appeal to jam band and pop fanatics alike.
"There is a lot of groove music with pop hooks. Those are the common threads throughout each song," Dodes explains on the band's jam-band-meets-pop sound.
"Lyrically, it's all about telling stories and being original about it," announces Dodes. "I am always struggling to find new twists to avoid the standard storytelling cliches. I use a lot of humor and quirkiness."
"In general, the exposure is invaluable," Dodes says of the shows benefits. "We now have name brand recognition, which helps a lot. The industry knows of us. In the end, the industry is more radio driven than TV-centric, and I'm not sure we really fit on the radio. However, we now have a good chance of calling people in the industry and having them know who we are.
"Matter of fact, the show helped us land a booking agent out of Atlanta, Georgia called Treeline Artists. With them, we're now doing the southeast, Midwest, and a few other markets we haven't hit before. We're definitely expanding our tour base with the help of the show."
I quickly inquire about their draw now that they're touring areas they've never hit before.
"We have great draws in some markets and no draw in others," Dodes says with confidence. "It really varies. But, one thing is for sure, you can't pay for the kind of exposure we got on VH-1."
On the show, several band members, and one in particular, focused on the need for a major label recording contract. Though, Dodes seems leery of the majors, preferring to self-release and do it himself with plenty of leg work, or have an indie label with clout and money get behind the band.
"We aren't in any serious talks with majors," he says, shrugging off the notion that he needs a major label. "I'm not ruling it out, though. But we're more focused on indie labels. Majors just aren't our focus, since we don't see ourselves fitting in on the radio, but could do really well with an established independent who could get behind us."
We then get on the subject of how the band got on the show and how they liked it, especially being able to walk away with the honor of being the first band kicked off.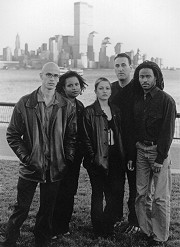 "We were an addition. Not last minute, but somewhat last minute," he says of the band's appearance in episode two, but not one. "They shot the pilot long before we ever heard about the show. They then put out an APB on an industry e-mail list that I read and we ultimately got picked. The pilot aired as episode #1, which was not the original plan. The first episode establishes character, and since we weren't on it, we were at a disadvantage. It was harder for us, because it put us behind from day one. But, when all was said and done, we were glad we did the show.
"But, to be honest, I was relieved to be able to go home. The show was very stressful. I'm a very private individual and couldn't take being filmed twenty four hours a day. They told us that after two days we wouldn't notice the cameramen, but that's not true at all. No matter how long they're there, you'll always notice them filming you.
"Being the first band kicked off was a blessing in disguise. The show is definitely a stigma. It wasn't entirely a great thing. We do have to overcome people's perceptions now. Though, I think we got the best out of the show we could."
His theory on the show being rigged: "I don't agree with that. The show was not rigged. I wouldn't doubt for a second though that VH-1 upped the prize money of the final battle of the bands, in order to give Flickerstick a better chance of winning. I'm sure VH-1 was thrilled Flickerstick won."
As for his plans now that the buzz is there and the show is over?
"We're now working twice as hard with this window of opportunity," he says. "Our plan now is to keep touring relentlessly. We're working on a new record. Hopefully it will be out by the end of the year, no matter what. We're talking to some bigger acts and managers about getting on bigger bills."